Video by David Corrigan | Voice of Stephanie Salazar
On Tuesday, friends and family of 22 year old Ted Braxton gathered at this makeshift memorial, located at the scene of the crash that took his life.
Loved ones left written messages on the sign set over flowers, along this fence on Hualalai Street, right across from K's Drive In.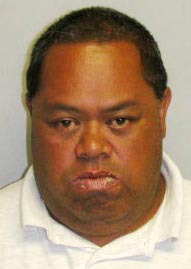 Police hace charged 41 year old Keolaokalani Kailianu (right) with negligent homicide in the first degree, operating a vehicle under the influence of an intoxicant and accident involving death or serious injury in the a crash at the intersection of Kino'ole Street and Hualālai.
Braxton, who was not named in the police release, was riding his moped on Kinoole when he was struck by the 2007 Ford van allegedly operated by Kailianu. Police say the van driver fled the scene with the moped still underneath the vehicle to an apartment building on Banyan Drive.
Kailianu was later arrested and charged. Police say his bail totaled $10,500. He was unable to post bail and remains confined at the Hilo police cellblock.
Braxton was a young University of Hawaii student and talented performer. Freinds of Braxton's say that there will be a celebration of Ted's life in Huntingdon, Pennsylvania later in June.