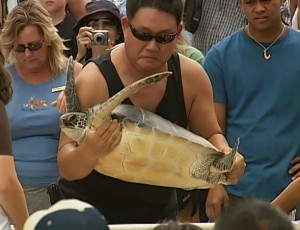 Video by David Corrigan | Voice of Stephanie Salazar
There is a 4th of July tradition on the Big Island of Hawaii that is just as popular as any parade or fireworks show.
Over 800 people flocked to the Kohala Coast beach to witness the 22nd annual "Turtle Independence Day" at the Mauna Lani Bay Hotel & Bungalows. The event celebrates the release of honu into the sea, and educates the public about the threatened species.
Mauna Lani receives baby honu from Oahu's Sea Life Park when they are 3-5 months old and raises them in the resort's saltwater ponds. The sea turtles are cared for until they grow to a size and weight that is deemed appropriate for release into the ocean, which is typically 2-3 years or until they grow to a minimum shell length of 35 cm.
Five Honu were released this year, making it 215 green sea turtles that Mauna Lani has released over the years.
The event also included hula, and a special exhibition honoring a legendary honu of Punaluu.
All 5 turtles were given Hawaiian names:
1. Kana'i: Meaning smooth, calm of the sea
2. Ku lua: Meaning Fourth day of the old lunar month, which is today's Hawaiian moon phase for July 4, 2011
3. 'Olino: Meaning bright, brilliant, dazzling
4. Pilialoha: Meaning close friendship, beloved companion, to have a loving or tender relationship
5. Wai puna: Meaning spring water (also used as a figure of speech for a sweetheart)
The release was a thrill for the families who were honored to bring the turtles to the sea, like Mary Freeman who was celebrated her 16th Birthday… or 2 day newlyweds Christen Moynihan and Leigh Hunter who released Pilialoha.