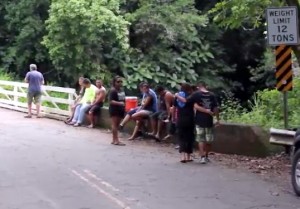 Video by Baron Sekiya, Hawaii247.com | Voice of Stephanie Salazar
Pepeekeo, Hawaii – The search continues for a man who was swept away by a flash flood along a Hamakua Coast stream on Sunday evening.
43 year old Ernesto Combes of Nanawale in Puna was reportedly lost in a deluge along the Kawainui Stream in Pepeekeo. Police say Combes had been fishing for prawns in the area known as six-ton bridge, a popular spot where locals are known to take the dangerous jump into the pond below.
The spot is just a short ways from the Hawaii Tropical Botanical Gardens, overlooking the scenic Onomea Bay.
Fire and Police Department personnel were called to the Old Mamalahoa Highway after  a report of a possible drowning at 9 p.m.  Fire dispatch says a 45 year old woman was also taken to Hilo Medical Center.
Police do not suspect foul play. This case is being investigated as a public accident.
Baron Sekiya of Hawaii24/7 was on the scene on Monday, where a crowd of friends and family anxiously awaited news of Combes' whereabouts. Paul Mendoza and his son Ricky – one of four caught in the flash flood – talked about the panic when Kawainui Stream suddenly became a raging rapids.