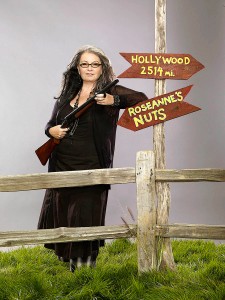 Voice of Stephanie Salazar
Photos courtesy Mario Perez & Jill Greenberg © 2011 Lifetime Entertainment Services, LLC, All Rights Reserved
The Big Island's celebrity resident Roseanne Barr made her reality series debut on the Lifetime Network on Wednesday evening.
"Roseanne's Nuts" premiered its first two episodes – back to back – showing Barr tackling her new life working a macadamia nut farm on the Hamakua Coast.
Barr, boyfriend Johnny Argent and son Jake battled feral pigs and ironwood trees in the one hour of television. Not much time was spent off the macnut farm.
Roseanne, seen here signing her new book, Roseannearchy, for a large crowd of fans a few months ago in Hilo, has been filming the show for months.
We can expect to see a few familiar faces on the island coming up in future shows, if these promotional pjhotos are any indication.
This pic shows Roseanne with Danny "Kaniela" Akaka and Penny Keli'i Vredenburg – two well known local folks – although the context of their appearance is presently unknown.
The show airs on Wednesdays on Lifetime TV.
And if you missed the show, you can catch it online. Watch it here on Lifetime's website: http://www.mylifetime.com/shows/roseannes-nuts/video