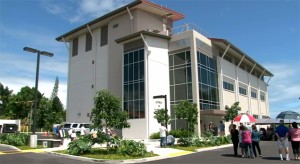 HILO, Hawaii: The University of Hawaii-Hilo unveiled a new Sciences and Technology Building with fanfare today in Hilo.
A large number of dignitaries were on hand for the occasion, including the first major visit from Governor Neil Abercrombie to the Hilo university for an event of this nature since he took office.
The university distributed the following media release:
A blessing and dedication was held today for the University of Hawai`i at Hilo's new Sciences and Technology Building, located at the corner of Lanikaula and Nowelo Streets.

"This facility will complement the Big Island's living, learning laboratory by significantly enhancing student learning, teaching and research," said Chancellor Donald Straney. "It will also attract scholarly teachers and researchers, which will encourage public and private agencies to partner with us to develop joint research and educational initiatives."

The $25 million building, spans more than 42,000 square feet and fulfills the need for additional classrooms, office space and new state-of- the-art laboratories for UH Hilo's expanding Physics, Astronomy and Chemistry programs. Key features include an auditorium that seats in excess of 140, along with smaller rooms of 60 and 24 seats.

In addition to the tenant programs, the building's facilities will accommodate classes in Biology, Math, Geography, History and Communication. Based on projections, the building will serve more than 1,700 students in various classroom venues daily.

"This is a game changer for the programs that will take up residence in the new building," said College of Arts and Sciences Dean Randy Hirokawa. "Their growth helped fuel our enrollment gains dating back to the late 1990s. Now they will have the state-of-the-art classrooms and laboratories they need to not only maintain their level of excellence, but step up to the next level."

The event was attended by a host of elected state, county and university officials, including Governor Neil Abercrombie and University President M.R.C. Greenwood. Abercrombie's appearance marked his first official visit to UH Hilo since being elected governor last year and underscored his support for STEM (Science, Technology, Engineering and Math) education and professional workforce development in Hawai`i.

"Governor Abercrombie has made it clear in public statements that he sees the Big Island as one of the State's key economic engines for the next decade, with UH Hilo playing a leading role," said University Relations Director Gerald De Mello. "STEM education will be critical to the success of that effort and this building provides us with the cutting edge tools to deliver the quality of learning necessary to meet the challenges of the 21st century."
Big Island Video News will post video from the event shortly.