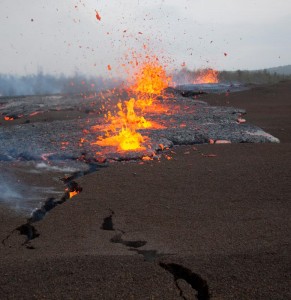 Produced by David Corrigan and Tim Bryan
HAWAII VOLCANOES NATIONAL PARK, Hawaii: When the first video of the March 5th Kamoamoa fissure was released, the world got a glimpse of the potential power of Kilauea, commonly known for its relatively peaceful eruption.
As geophysicist Mike Poland explained at a recent After Dark at the Park talk at the national park, this video captured by a heroic Hawaiian Volcano Observatory scientist was nearly more than was bargained for.
"So we sent out this geologist in this helicopter", Poland told the crowd at the Kilauea Visitor Center. "And he overflew Pu'u O'o and he noticed that 'yeah' that cater floor is gone. But he didn't notice anything else on his first pass.And then he was over Pu'u O'o and he and the pilot looked over their shoulders a little bit up the rift… and they saw a fissure eruption that had just started. So what did they do? Like any good geologist, he landed… and he took a video."
The crowd gasped as they watched the video of a widening fissure crack, spewing lava, crumble away towards the filming geologist, who held his shot until it was obvious that it was time to run for his life.
Tomorrow, the view from above… a first, in more ways than one.
PHOTO: View looking at the NE end of the actively propagating fissure. Lava is just breaking the surface in foreground crack, courtesy USGS Hawaiian Volcano Observatory