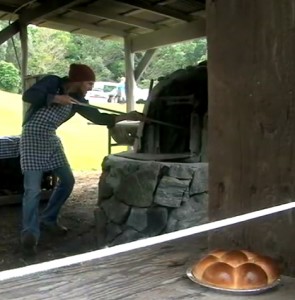 Video by Matt Binder & Lynn Beittel, Visionary Video | Voice of Stephanie Salazar
KEALAKEKUA, Hawaii: The Kona Historical Society celebrated the Portuguese contributions to Kona's ranching heritage with their Portuguese Festival, held on Saturday on Kamehameha High Schools pasture lands in Kealakekua.
The free event showcased the sort og things the Portuguese in Kona are known for…
One of the proud sponsors this year: the Paniolo Preservation Society, and one of the festival's big exhibits showcased saddlemaking and other paniolo artisans. Master saddle maker Albert Moniz took the time to talk story for this video.
And of course, what is a trip to the Kona Historical Society without a stop for some Stone Oven Baked Portuguese Sweet Bread. Carla Draxlir shares her breadmaking knowledge in this video.
The event also featured Local Musicians like Kunia Galdeira, Kevin Teves and A`oia! There were also Free Tours of the H.N. Greenwell Store Museum