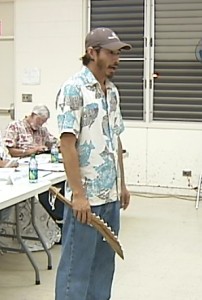 Video by Daryl Lee, David Corrigan | Voice of Stephanie Salazar
HONOLII, Hawaii: Big Island police have arrested a man wanted in connection with a stabbing incident near Honoliʻi Beach Park.
Last night, police found 29-year-old suspect Michael Glendon of Keaʻau. Strangely enough, Glendon was filmed here in Pahoa one week ago, where he delivered this unusual public testimony at the Hawaii County Redistricting public hearing.
Glendon brandished this shark tooth Hawaiian weapon, as he asked the commission to play music on a portable player while he moved to the rhythm for the duration of his allotted time.
At 11 a.m. on Monday, October 17th, South Hilo patrol officers responded to a call for assistance and discovered that a 29-year-old Hilo man had sustained two injuries to his lower back in an altercation with an acquaintance on Kahoa Road fronting the Honoliʻi lookout area. Before police arrived, the injured man had been taken by private vehicle to Hilo Medical Center for treatment of his wounds, which don't appear to be life threatening. He remains at the hospital in stable condition.
On Monday evening, police said they had not recovered the weapon used in the incident. Big Island Video news has not been able to confirm wether or not that weapon may have been the one seen in Pahoa last week…
Police ask than any witnesses to the altercation or anyone with information on Glendon's whereabouts call Detective Reed Mahuna at 961-2384 or the Police Department's non-emergency line at 935-3311.
Tipsters who prefer to remain anonymous may call Crime Stoppers at 961-8300 in Hilo or 329-8181 in Kona and may be eligible for a reward of up to $1,000. Crime Stoppers is a volunteer program run by ordinary citizens who want to keep their community safe. Crime Stoppers doesn't record calls or subscribe to caller ID. All Crime Stoppers information is kept confidential.