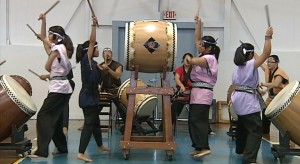 By David Corrigan and Tim Bryan
MOUNTAIN VIEW, Hawaii: The quiet Mountain View Gym came back to life on Saturday… when the "Reopening Celebration & Ohana Fun Day" attracted hundreds to see the untying of the maile lei.
Residents, dignitaries, taiko drummers… and even "Youth ChalleNGe Academy" cadets… were all on hand for the joyous day.
The A.J. Watt Gymnasium is an important facility to the Mountain View community, and is central to the character of the area.
The gym was closed in 2009 because of hazardous lead paint, and only limited use was allowed until renovations were completed.
An antsy public awaited the full re-opening over the next several months. Question about the gym were on the minds of some folks at this Volcano Village talk story with Mayor Billy Kenoi held around the time of the gym's closure.
Luckily for the county, Na Wai Ola – or the Waters of Life – Public Charter School is located right next to the Gym.
Daniel Caluya, principal of the small school, organized volunteers who stepped up to the plate to help the county get the job done.
The charter school has struggled over the years, but under Caluya's leadership things have turned around. At one time, the school was even closed down, but the determined community brought the school back to life… and at this point it has proven itself to be a community asset, even beyond the classroom.
We caught up with the principal in 2010 at the time of the school's annual Hoolaulea.
Today, the school has something else to celebrate.
The modified facility meets the Americans with Disabilities Act accessibility standards. The county hired Site Engineering Inc. to do that work for $376,300.
The Neighborhood Place of Puna organized the event that lasted from 9 a.m. to 2 p.m.