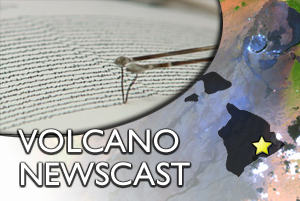 By David Corrigan and Stephanie Salazar
HAWAII VOLCANOES NATIONAL PARK, Hawaii: In Volcano area news… we have one quick note of interest to pass along concerning earthquakes. In the wake of Thursday's 4.5 magnitude earthquake beneath Mauna Kea that shook Hawaii, and the numerous aftershocks that kept USGS monitors busy all evening… a magnitude-3.7 earthquake located 9 miles south-southeast of Kilauea struck on the very same day.
The quake was more powerful than any of the Mauna Kea aftershocks.
This week, scientists say 17 earthquakes were strong enough to be located beneath Kilauea: two along the southwest rift, one just west of the summit, and 15 on south flank faults.
These earthquakes had no discernible affect on Kilauea's eruption, and scientists say the 4.5 Mauna Kea quake and its aftershocks were related to the great weight of Mauna Kea on the Earth's crust, not volcanic activity.