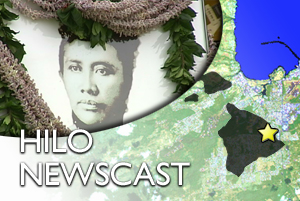 By David Corrigan and Stephanie Salazar
HILO, Hawaii: "He Hali'a Aloha No Lili'uokalani" – a celebration of the beloved Queen Liliuokalani's birthday… was held at the scenic Lili'uokalani Gardens in Hilo this Saturday.
The queen's birthday is September 2nd, and the festival celebrating her legacy is normally held sometime that month, but a reported scheduling conflict pushed the event back to late October.
Skylark Rossetti and Penny Vredenburg served as MC's for the event. Many folks in attendance and on the program were late in arriving, thanks to the accident on the Hamakua coast that we reported on earlier.
Lucille Chung offered the opening pule, which was followed by the traditional opening hula performance by the keiki of Kukulu Kumuhana O Puna.
The keiki were always special to the queen. In the decade following her overthrow in 1893, Lili'uokalani established a private foundation benefiting the orphaned and destitute children of Hawaiian ancestry.
The Queen Lili'uokalani Children's Center lives on today, with a net worth of $500 million and thousands of acres in land assets. The foundation helped to put the day's event together, along with the County of Hawaii.
Then it was time for the Ho'okupu ceremony; adorning the image of the queen with lei from various Hawaiian organizations. Leading the way, the Royal Order of Kamehameha.
Afterwards, the talented Darleen Ahuna took the stage… and played until the signature moment of the day… the mass hula.
With a Blue Hawaiian helicopter hovering overhead, ready to let flowers rain down from above, an actual Hilo rain began to fall first.
But the numerous halau were undeterred… spread all over the grounds of the park, the groups danced beneath a flurry of falling pedals.
There were other events that day: the Japanese culture was on display during this taiko drumming demonstration at the sumo house.
The Japenese garden theme of this park was inspired by a visit to Kyoto, and have long symbolized the sister island relationship between Japan and Hawaii.