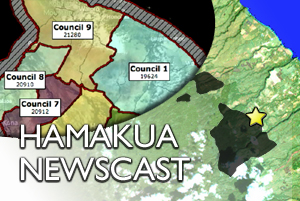 By David Corrigan and Stephanie Salazar
HAMAKUA COAST, Hawaii: Some folks in Hamakua are growing concerned about the latest proposed political boundary map that seems to be gaining momentum during the redistricting process.
According to reports, the Hawaii County Redistricting Commission seems to be favoring this map – Commission Plan A – which places Honokaa – normally the political base of District 1 – into District 9.
On the south end, the redrawn district 1 eats into Hilo town.
During the first round of public hearings held on the new maps in each of the nine districts around the island, there was a very small public turn-out at the commission's stop at Papa'aloa in Hamakua. This latest map was not one of the six maps up for discussion, although as far as Hamakua is concerned, the latest map bears resemblance to Map 17.
The commission has stressed that no plan has been chosen, they meet again on Thursday in Hilo.