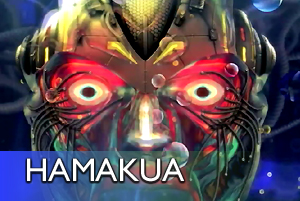 By David Corrigan and Stephanie Salazar
[Video courtesy Island Planet One Productions]
HAKALAU, Hawaii: A local filmmaker has launched a Kickstarter Campaign for an animated, independent science-fiction film entitled "Strange Frame"
Producer GB Hajim and Island Planet One Productions, the animation company based out of Hakalau that is producing this feature film, has been teaching and employing the best and brightest of local high school and college students on the Big Island of Hawaii, according to a recent media release.
This video was also provided by the young producers. It includes interviews with John Mason, Film Commissioner of the island, and Marc Miranda, the former Governor's liaison for East Hawaii when Linda Lingle was in office.
This week the project launched a Kickstarter campaign to raise finishing funds from their rapidly growing base of over 18,000 fans. Kickstarter is a crowd-funding platform that allows producers to connect with their audiences and raise funds through incentives like pre-selling exclusive DVDs and other merchandise. Producers are hoping to get some support on the Hawaii home front to see the effort through to completion.