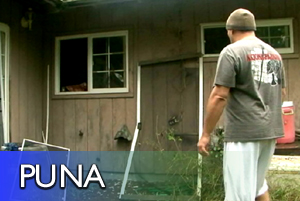 By David Corrigan, Baron Sekiya, Daryl Lee and Tim Bryan
[HPP video by Daryl Lee, Lani Puna Gardens video by Baron Sekiya, Hawaii247.com]
PUNA, Hawaii: On Tuesday, lightning lashed the east side of Hawaii Island, and in Puna the violent electrical storm caused damage to homes and left residents in a state of alarm.
This is what Pahoa looked like shortly before noon, with pouring rain and loud thunder claps.
Numerous lightning ground strikes were reported in the area, and right outside of town this HELCO crew worked to repair lines that were struck on Highway 130.
On 13th avenue in Hawaiian Paradise Park, resident and retired Hawaii County police officer William Hodson was startled to find a lightning bolt had crashed into his home while he was away.
But perhaps the most frightening moment for the region came when the Puna Geothermal Venture plant was apparently struck by lightning, tripping the facility offline and causing some hydrogen sulfide gas to be vented. Residents of nearby Lani Puna Gardens grew concerned, and notified authorities.
As it turns out the material that was vented ended up at 62 parts per billion, well below the 10-parts-per-million that triggers an evacuation.
Plant managers reported that the leak was sealed, and by late afternoon, the odor had dissipated in surrounding neighborhoods and no hydrogen sulfide odor was present by the plant buildings, according to Hawaii247.com.