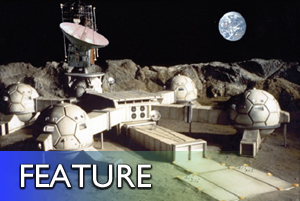 By David Corrigan, Tim Bryan, and Lynn Beittel
[Video by Lynn Beittel, Visionary Video | Animations courtesy NASA via PISCES]
WAIKOLOA, Hawaii: A big meeting for the future of not only space exploration, but colonization, took place this week.
The International Lunar Research Park Leaders Summit was held at the Hilton Waikoloa Village. It was hosted by the State of Hawaii in collaboration with the Pacific International Space Center for Exploration Systems – or PISCES, the Pacific International Space Alliance, NASA, the ILRP Corporate Consortium, and the UH Hilo Conference Center.
In May, Hawaii and NASA signed an agreement establishing a partnership between the Ames Research Center and the Aloha State. The partnership would "explore and test new technologies, capabilities and strategies supporting America's space exploration and development goals".
As a result, UH-Hilo would see the development of a prototype International Lunar Research Park.
This week's conference was a chance for everyone involved to get up to date on the progress of the project.
Because of the soil types on the island, Hawaii makes an ideal location for this experiment, say organizers. According to project coordinators, President Barack Obama's shifting focus towards the Pacific is another reason Hawaii is an ideal location for the research park.
The project will be developed in three phases. In this video, Frank Schowengerdt, Professor of Physics at UH-Hilo and the director of PISCES… and Jim Crisafulli, the Director of the  Hawaii Office of Aerospace Development… describe the vision.