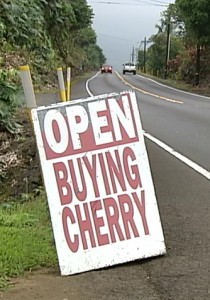 By David Corrigan and Stephanie Salazar
[Video by David Corrigan]
KONA, Hawaii: As the coffee harvest winds down in Kona, farmers are getting a better idea of how the Coffee Berry Borer beetle pest is affecting their crop.
And so are the coffee processors. Here along the side of the highway, just one of many cherry buyers popping up around South Kona this time of year.
Tom Jenkins says there will be a shortage this year.
It it already looks like the CBB infestation will cause the price of Kona coffee to increase.