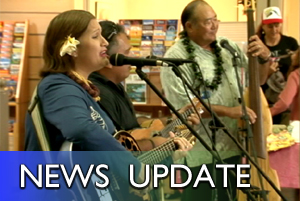 By David Corrigan, Tim Bryan and Stephanie Salazar
[Video by Tim Bryan]
WAIMEA, Hawaii: This week, we reported on the Waimea Christmas Twilight Parade that rolled down Mamalahoa Highway on Saturday night…
But that wasn't the only part of the day's holiday celebration.
The Lokahi Giving Tree Project was the focus of the Upcountry Fair at KTA's Waimea Center where dozens of musicians, singers and dancers volunteered their time and talent to celebrate the coming holidays and to encourage community friends to give generously to this year's Lokahi Giving Tree Project.
The event was emceed by Penny Keli'i Vredenburg… who introduced the various performing artists like Darlene Ahuna and Waimea's amazing blind student-musician Kuha'o Kawa'auhau-Case.
People brought donations – small and large… the "absolute necessities" such as baby diapers, toilet paper, toothpaste, toothbrushes, bath soap, laundry detergent, feminine products, rice, non-perishable foods
Gift cards to various local merchants were also encouraged.
Foodland, local farmers markets, gas stations, Costco, Walmart or Target.
Established in 1985 by newscaster Leslie Wilcox and Mariellen Jones, the Lokahi Caring Project provides people with opportunities to relieve the burden of struggling individuals and families through donations of goods, cash equivalents, enriching experiences, and advocacy.
The Lokahi Caring Project is a unique partnership between KHON2 and the non-profit organization Keiki O Ka Aina Family Learning Centers.