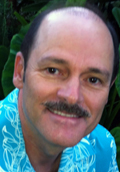 Media release from Kamehameha Schools:
KEA'AU, HAWAI'I: Dr. Holoua Stender has been selected as the new Head of School for Kamehameha Schools' Hawai'i campus (KSH).
Dr. Stender has contributed to Kamehameha Schools over the past 32 years in his current role as Kapālama's Elementary School Principal as well as prior department leadership and teaching roles at Kapālama's High School, and as an administrator in its summer programs. He is also a member of Kamehameha's tri-campus leadership team, tasked with advancing all three of Kamehameha's campuses in 21st century educational excellence.
"Holoua has shown his passion for student learning and has contributed tremendously both at the division and campus levels of leadership. He is well respected for his educational knowledge and his deep understanding and expression of Hawaiian culture, language and life. He practices what he believes in and inspires others to do so as well," commented Dr. Rod Chamberlain, VP of Campus Strategic and Academic Affairs at Kamehameha Schools.
This expertise was recognized by members of the KS Hawai'i leadership team as they reflected after the interview process, "Dr. Stender is a proven educational leader within the KS system — he is a scholar that has connected Hawaiian pedagogies to impact student achievement."
Dr. Stender grew up on Kewalo Hawaiian Homestead and learned Hawaiian culture and 'ōlelo at an early age. In 1979 he achieved the level of Kumu Hula and still advises and supports various hālau and Hawaiian performing arts groups here and on the continent. He also teaches chant and mele composition and translates Hawaiian documents, songs and poetry for groups and individuals. He has been actively involved in his community and volunteers his time at church activities and in community fundraisers.
Dr. Stender received his doctorate in Education from the University of Southern California where he currently serves as an adjunct assistant professor. He also holds a master's degree in Education from the University of Colorado at Boulder and currently serves on the core planning team of Kamehameha Schools' Standards-Based Kula Hawai'i curriculum project.
Upon learning of his appointment, Dr. Stender responded, "E ō e Moku o Keawe — Hawai'i island — has always held a special place in my heart. This 'āina is the ancestral homeland of my kūpuna. I am thankful and humbled to know that I'll be returning there to work with so many dedicated individuals, who are also inspired by the vision of Princess Pauahi to promote well-being and provide the very best in educational opportunities for our children and community on the Big Island of Hawai'i."
"Kamehameha Schools' Hawai'i campus has achieved many milestones in educational excellence. The school is a piko, gathering place for students, families, staff and the community. There is great synergy here where people come together to do noble work. I am excited and look forward to continuing the excellent traditions and work of leadership, faculty and staff of Kamehameha Schools Hawai'i."
Opened in 1996, Kamehameha Schools Hawai'i is located on 312 acres in Kea'au and serves 1,120 students in grades Kindergarten through 12th grade. The campus is accredited by the Western Association of Schools and Colleges (WASC) and a member of the National Association of Independent Schools (NAIS).
Kamehameha Schools is a private, educational, charitable trust founded and endowed by the legacy of Princess Bernice Pauahi Bishop. The year 2012 marks the 125th anniversary of the opening of Kamehameha Schools, which today operates a statewide educational system enrolling over 6,900 students of Hawaiian ancestry at K-12 campuses on O'ahu, Maui and Hawai'i and 31 preschool sites statewide. Over 40,000 additional Hawaiian learners and caregivers are served each year through a range of other Kamehameha Schools' outreach programs, community collaborations and financial aid opportunities in Hawai'i and across the continental United States.