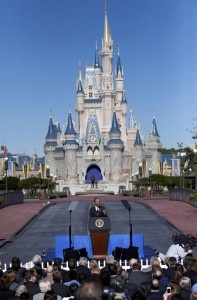 By David Corrigan and Stephanie Salazar
[President Obama video courtesy The White House]
A presidential speech given many miles away in Disney World will have a big impact on Hawaii tourism revenue, local leaders hope.
President Barack Obama unveiled plans to establish a new national tourism strategy focused on creating jobs on Thursday.
President Obama announced efforts to expand the Global Entry Program, which makes it easier for frequent visitors to the United States — who've undergone a background check — to travel in and out of its borders. Obama told the audience that he has directed his administration to add additional nations to the list of those whose citizens are allowed to visit America without a tourist visa.
The president is also mindful of the booming middle class in places like China, India and Brazil… a market that is largely lost due to onerous restrictions and long waits.
In the United States, tourism is big business. In 2010, the U.S. welcomed nearly 60 million international visitors to America, and they helped to boost our economy to the tune of $134 billion, according to the White House.
And in Hawaii, tourism still stands as the number one industry.
Governor Neil Abercrombie spoke highly of the president's efforts, referencing a meeting he had with the president during APEC on the subject of tourism last year.
"The President's announcement today is a wonderful New Year's gift to the people of Hawai'i," Abercrombie said on a written statement. "President Obama clearly understands that improving the visa and foreign visitor processing and travel promotion will spur economic growth. We look forward to experiencing that growth here in Hawaii."
"I'm also looking forward to sharing this good news with our friends in China." Abercrombie continued. "This executive order will result to their benefit of travel and our continued strengthening of relationships."
The initiative has bi-partisan support in Hawaii. Republican senate hopeful Linda Lingle issued a statement in support of President Obama's plan on Thursday. This campaign video posted to YouTube months ago shows that Lingle intends to further a similar agenda, if elected.