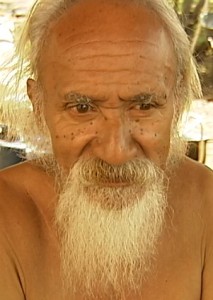 By David Corrigan and Stephanie Salazar
[Video by David Corrigan]
KAWA, Hawaii: Earlier this month marked the two year anniversary of a unique roadside vigil in Ka'u.
Abel Simeona Lui, who some regard as the Konahiki of the lands surrounding the popular Kawa bay and surf spot, has made his stand here along Highway 11 since January 2010, surrounded by Hawaiian sovereignty signs and Kingdom flags.
Abel, who has lived at Kawa for decades, has been protesting against the public open space purchase of these lands by the county. During the past two years, he has transformed the location into a virtual homestead, complete with a garden, pets and smoldering imu.
Last year's anniversary was marked by this observance by friends and family… but this year, Lui says things were quiet.
Visiting Lui this past week, we saw that last year's drought in Ka'u has taken a toll on his crops, but the grounds still appear abundant with fruit trees and vegetables.
Lui claims allodial rights to the land, and says it was given to his great-great-grandfather Timoteo Keawe by way of a royal land grant.
Nonetheless, towards the end of last year, the county closed on the purchase of a remaining 551 acre parcel at Kawa from the Olson Trust. The final price was $3.9 million, with over half the funds coming from state and federal grants. Lui still faces a court approved eviction by the county.
Lui has exhausted nearly every legal remedy at his disposal, although he still has hope that his options have not entirely run out.
At this point, Lui says, he just wants to talk story with Mayor Billy Kenoi, who Lui says has yet to respond to his request for time.
He is also concerned that a planned state project that will address flooding along this same stretch of highway – known as Kawa Flats – may also force him to vacate.
For now, Kawa's konahiki continues with his two year long demonstration. wether or not the vigil makes it to year number three remains to be seen.