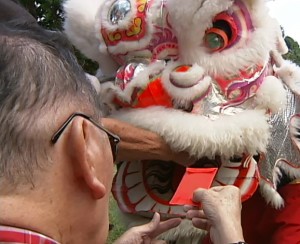 By David Corrigan and Stephanie Salazar
[Video by David Corrigan]
HALAWA, Hawaii: In North Kohala, a celebration was held at the Tong Wo Society building in Halawa in honor of Chinese New Year.
Shortly after 10 a.m., with a large crowd gathered around the yard of the building on the only day it is open to the public, the bang of firecrackers roused the lion dancers, who swirled around the pyrotechnics to the din of the drum.
The lion dancers also turned their attention to the Tong Wo Society building, going through the structure to offer a blessing.
Built in 1885, the building is said to be the state's oldest Chinese building. The Tong Wo Society is currently hoping to raise $25,000 in order to purchase and install a new roof for the building.
The people also had a chance to feed envelopes of money and dollars bills to the lion dancers outside. A potluck followed the activities.
The Chinese New Year is a 15-day celebration that begins with the first new moon in January and ends with the first full moon. Also known as the Spring Festival, this marks Chinese year 4710, or the Year of the Dragon.
The Chinese lunar-solar calendar rotates through 12 zodiacal animals: the rat, the ox, the tiger, the dragon, the snake, the horse, the sheep, the monkey, the rooster, the dog and the pig. Legend says these animals were chosen simply because they were the only creatures to accept Buddha's invitation to gather on the new year.
The holiday is marked by rituals, traditions and community celebrations intended to foster health, happiness, prosperity and luck. And of course… plenty of firecrackers!