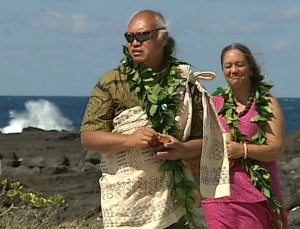 Councilman Angel Pilago reflects on the current development
Video by David Corrigan, Voice of Stephanie Salazar
KONA, Hawaii: A blessing of the new Kohanaiki Coastal Community Park was held on Tuesday.
The new coastal community park – situated along 1.5 miles of shoreline – is underway at Kohanaiki in North Kona. Officials say its the result of years of collaboration between community groups, the County of Hawaii, the Kohanaiki Shores project, and lineal descendants of the area.
One of the dignitaries who spoke at the day's event, Kona councilman Angel Pilago, who successfully took the former property owner, Nansay Inc., to court over Native Hawaiian gathering rights at the location.
On Tuesday, he said he was pleased with the outcome.
The day's event had happy tones, and included the participation of treasured area kupuna like Aunty Elizabeth Maluihi Lee.
Officials say that upon the park's completion – which is targeted for the end of 2012 – it will be turned over to the County of Hawaii and the responsibilities for park care will be shared between Kohanaiki Shores, the County and the local community. As work gets underway, the park partners say they will continue their discussions on details of the beach park's operation.
Daily beach access will continue on its current schedule. However, the tentative camping schedule for 2012 may be adjusted as work on the park dictates and beach goers can expect some detours on the road to the beach during construction.
One of the first phases of park work will focus on landscaping and will include the careful moving and transplanting of trees and other flora to make way for necessary roadways and parking.
Once completed, the park will be open daily and will include bathrooms and outdoor showers, designated camping spots, a halau for cultural practices, improved parking, and improved roadways to the shoreline and within the park. A pedestrian trail along the length of the shoreline is already established and is part of the longer Ala Kahakai National Historic Trail.
Officials say a preservation and cultural plan, guided by the lineal descendants of Kohanaiki, is in place to oversee the conservation of historic and cultural sites at the park, as well as ongoing cultural practices.
Its a moment of closure for the efforts of Angel Pilago, who will be handing over his council seat when he opts not to seek re-election later this year.