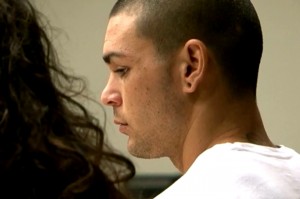 Carenio already facing grand jury indictment on manslaughter charge
Video by Daryl Lee, Voice of Stephanie Salazar
HILO, Hawaii: A man who is facing manslaughter charges – and his half brother – were in Hilo court on Tuesday, facing charges felony charges for the alleged assault of a witness.
Hawaii County Police ended their search for 24 year old Turner Kaimana Au, and 21 year old Waylen Keone Carenio, Jr. when the two men turned themselves in on Monday night.
Carenio, at one time a mixed martial arts competitor, was allegedly involved in a December 3rd early morning fight with 44 year old Roy Williams outside Karma Sports Bar on Makaala Street. Witnesses say Williams was knocked to the ground, and he later died.
Carenio was indicted on January 25th on a manslaughter charge by a Hilo grand jury, and he later posted $50,000 bail.
Now, in the latest incident, Hawaii County Police say a 20 year-old male victim reported that on Wednesday evening – February 1st, shortly before midnight – he was allegedly contacted outside of Coquis Hideaway by Carenio.
The victim says he entered a stopped vehicle driven by Carenio, and once inside, Turner Kaimana Au physically restrained him. He was then assaulted by both men, police say.
Police say the victim managed to break free and escape from the vehicle.
The public was alerted to be on the lookout for the two suspects, and were warned that the subjects could be armed and should not be approached.
After turning themselves in, Carenio made his initial court appearance for the manslaughter charge on Tuesday afternoon and then was returned to the cellblock.
Later Tuesday, Carenio and Au were each charged with kidnapping, intimidating a witness, retaliating against a witness and third-degree assault for the incident outside Coqui's.
Judge Barbara Takase decided that bail would be maintained at $71,000 each.