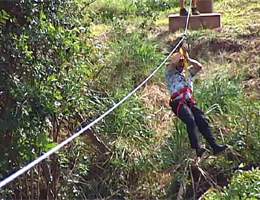 Push follows September 2011 accident that killed one man, injured another
HONOLULU, Hawaii: Three senate committees have recommended that a new measure relating to zip line tours be passed by the legislature this session.
Senate Bill 2433 establishes standards and regulations for operators of ziplines and canopy tours in Hawaii.
It would also require operators to obtain annual inspections and permits from the Department of Labor and Industrial Relations.
Eyebrows were raised late last year after a fatal accident on a Hawaii Island zipline course, when it was revealed how little the operations are regulated by state government.
In September, a Maui man died and an Ohio man was critically injured in a zip line accident at Lava Hotline's Honolii Mountain Outpost attraction in Pauka'a.
The men were employees of the professional zipline building company "Experiential Resources Inc.".
In October, KapohoKine Adventures, which used Lava Hotline exclusively for its zipline tours, announced that it had suspended booking zipline tours pending a full evaluation on the soil composition and structural integrity of the lines.
It was around this time that we interviewed Tony DeLellis, co-owner of Kapoho Kine, about how the incident has changed his life forever.
DeLellis said he is in support of tighter regulation in the relatively new industry on Hawaii Island.
At the time of the accident, The office of Mayor Billy Kenoi sent out a press release saying it will conduct a quote "careful, thorough review to determine all of the facts in this case. We need to know exactly what happened and why, and we need to know exactly what went wrong. When we have completed that review and the facts are known, we will release our findings publicly."
There has been no further information from the county since the accident occurred.