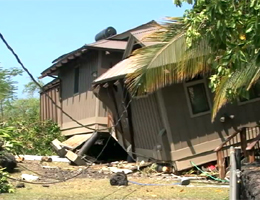 A look back, one year later, one the event that changed many lives on Hawaii Island
Voice of Tim Bryan
SOUTH KONA, Hawaii: Of all the regions on Hawaii Island affected by the March 11th tsunami, South Kona was worst hit.
The images from that early morning are unforgettable. The destruction at Napo'opo'o Village has not been seen on the island for decades, and the house floating in Kealakekua Bay has become the iconic image of the event.
Luckily, there was no loss of life… but there were some close calls. Take for example the chilling story of survival by Valerie Hawkins, who along with her husband was caught by the rushing tsunami waves while in their car.
Reports from scientists with the Pacific Tsunami Warning Center have said that waves washed 100 feet inland at the Napoopoo location on the Big Island, and that wave heights reached an estimated 11 to 12 feet, maybe more.
Napo'opo'o wasn't the only village to have a home claimed by the sea. Structures along the shore of the South Kona wilderness were also knocked around and washed away, as well. Senator Gil Kahele reported what he had seen.
Commercial boating ventures along the Keauhou Bay were damaged by the surge. And at Puuhonua O Honaunau National Historical Park, the waves carved away the earth, revealing Hawaiian history.
In the days immediately following, the cleanup effort began. Massive amounts of debris were hauled out of the village, and volunteers tackled the challenge of salvaging what they could from the two story condo that sank into the bay.
Keeping things in perspective, Haleaka Pule, kahu of Kealakekua Bay's shoreline temple known as Hikiau Heiau, said the residents of the area are actually in a state of grace.