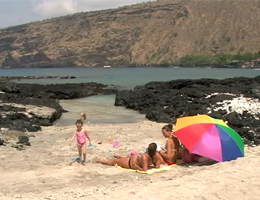 Residents reflect on March 11th, and the rebuilding of the hardest hit spot in Kona
Video by Visionary Video, voice of Stephanie Salazar
This video was first seen on KITV News
NAPO'OPO'O VILLAGE, Hawaii: Napoopoo Village was by far the worst hit residential village along the Kona coast.
Today, the once devastated homes are all in various stages of repair.
Cameron Healy, a resident and homeowner in Napoopoo village, remembered the day of the tsunami in this recent interview, first seen on KITV news.
The tsunami also brought changes to Healy's privately owned Manini Beach. Caretaker Sandy DeBina Esperenza spoke about what the beach looked like right after March 11th.
To this day, villagers continues to theorize about why the surge was so large in Napoopoo.
Healy says he has taken care in rebuilding.
And as for the infamous "house in the water"… Bill Walsh, aquatic biologist with the State Department of Land and Natural Resources, told reporter Sherry Bracken that thanks to quick community cleanup, there is little evidence anything ever happened in Kealakekua Bay. He acknowledged there are likely some large items at the bottom of the Bay, around 100 feet down, but there was minimal long-term damage to coral. Any debris still at the bottom of the Bay will stay there until it decomposes.