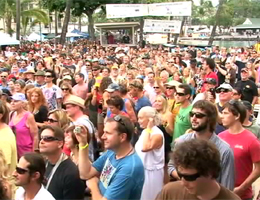 Video courtesy Kona Brewers Festival, Voice of Stephanie Salazar
KAILUA-KONA, Hawaii: Further proof that Kailua Village has made a strong comeback in the year since the 2011 tsunami… a sold out Kona Brewers Festival on the King Kamehameha's Kona Beach Hotel luau grounds.
The 17th annual event was held on Saturday, March 10th… and craft beer aficionados indulged in 70 types of ales and lagers served alongside a cornucopia of island style cuisine from 30 Hawaii chefs.
The Kona Brewers Festival is the headline event of a multi-day celebration that included a beer and food pairing dinner on Thursday; a charity golf tournament at Big Island Country Club Friday; and a Walk/Run for Hops race Saturday morning, on March 10th.
Matson Davis, president of Kona Brewing Company, spoke more about the event in this video news release from festival organizers.
A stage with live music entertains festival-goers throughout the day. The annual Trash Fashion Show, designed to raise awareness of the importance of recycling, shows off whimsical attire made entirely from recycled material.
Part of a big sustainability focus of the festival.
One of the highlights for attendees was this erupting sand castle put together by the people of Sandmasters.
The Kona Brewers Festival is a community fundraising event made possible by the Bill Healy Foundation that promotes the craft brewery revolution in Hawaii and encourages professional brewers and chefs to work together. The event raises funds for environmental, educational and cultural organizations. It has raised $475,000 over the past 16 years.
The community that puts the festival together is also a beneficiary from the event.