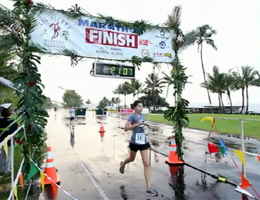 Adversity cannot stop the Big Dog from enjoying another well run race
Video by Baron Sekiya, Hawaii247.com, Voice of Stephanie Salazar
HILO, Hawaii: The 2012 Big island marathon is in the books… The runners arrived by bus in Pepeekeo in the early morning hours, gathering at the Kulaimano Community Center, in preparation for the start the race before sunrise…
The day's races included the full 26.2-mile marathon, a half-marathon and a 3.1-mile run/walk.
Race organizers say from the start to mile 10 it is a net downhill of 500 feet, with some hills in the first 8 miles but fairly flat after that.
Conditions were rainy along the East Hawaii coast into Hilo… where the finish line was set up and a cheering crowd was waiting.
This year's overall winner… Curtis Huffman of Wessington Springs South Dakota, who finished in two hours and 39 minutes.
The Top Woman in the 15th annual running was Mai Fujisawa of Chiba-Ken, Japan.
One man happy to be at the finish line… Race organizer Wayne "Big Dog" Joseph, who recently had surgery for a malignant brain tumor, part of a rare brain disease called glioblastoma… but he credits his quick recovery from the rigors of the procedure to his healthy lifestyle.
On Saturday, it was evident that Joseph was enjoying his continued involvement in the sport he loves.