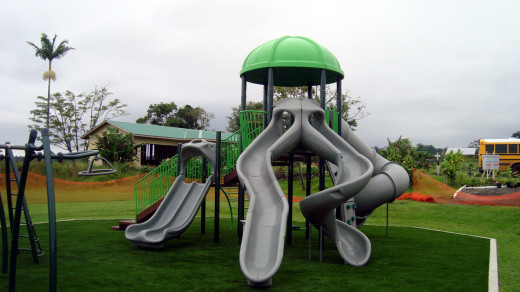 MOUNTAIN VIEW, Hawaii – This Friday, the community will celebrate the opening of a new children's playground at A.J. Watt Gym in Mountain View.
The county says Mayor Billy Kenoi, Puna Councilman Zendo Kern, the Department of Parks and Recreation and the Friends of Mountain View Gym and Park all plan to be in attendance.
The 2,300 square foot playground has two modular-design play areas for children between the ages of 5 and 12 years old. There's a climbing wall, stairs, platforms, a protective roof and five slides, including a tunnel slide. The county says special synthetic turf and an impact-absorbing layer make the playground extra safe.
Festivities will start at 2 p.m. at the Nā Wai Ola Public Charter School campus located next to the gym. The charter school is currently enjoying a wave of good press, with Honolulu Civil Beat featuring the school's turnaround in a five part series.
The Hawaii Department of Education recently listed Na Wai Ola as one of the highest-achieving schools in the state under the new Strive HI performance and improvement system, earning the school a $95,000 prize. It was the only charter school in the state to place in the top-tier.
The success is due in part to the diligence of principal and military veteran Daniel Caluya, who we interviewed three years ago during an event celebrating the continued operation of the school, which had just narrowly avoided closure. Caluya helped rescue the Na Wai Ola from the brink of shutdown, molding it into a model charter school
During a later event celebrating the opening of the refurbished A.J. Watt Gym, Mayor Billy Kenoi talked about the gradual rehabilitation of the recreation complex over the years. Prinicpal Caluya and his school also played a big role in the gym's restoration.
Mountain View Gym re-opens (Oct. 2011)