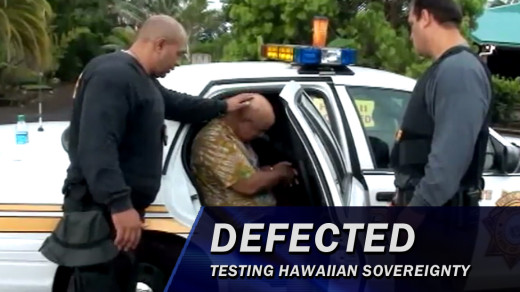 It's a story of a foreclosure; one of many on Hawaii Island. Or, it's a pivotal moment in the legal struggle of the occupied Hawaiian Kingdom. It's a documentation of a Puna man's forced eviction from the place he's called home for over a decade; or, it's a glimpse of a hidden reality that clouds the title of every commercial and residential property in the state; the lynch pin to testing an international understanding of America's relationship to Hawaii
---
PART ONE: Meet Kale Gumapac
PUNA, Hawaii – We sat down with Kale Gumapac in late November, in the backyard of Robert Keliihoomalu's Hawaiian Beaches home. Robert is one of Gumapac's chief supporters. Also by Kale's side was Nanci Munroe, who was there on the day that Kale was evicted from his home, just a few days before our interview. Munro filmed the sheriffs as they served Kale notice in August, and she was there again when they came back to kick Gumapac off his Hawaiian Paradise Park property a few months later.
But Kale's story is just a small part of a larger situation – a much larger situation – that he believes could rock the entire Hawaiian islands. Kale says that all along, he has simply been following the agreements he entered into when he bought his home, which now sits vacant here on 2nd Avenue. And although Munro's video of Gumapac in handcuffs makes it look like HE is the criminal, he says its the sheriffs officers, the judges, and the banks who are in trouble.
Gumapac made headlines recently not only for his high profile dispute with his mortgage bank, but for accusing those working in Hawaii's criminal justice system of war crimes. The whole argument is rooted in the belief – held by a small but growing number – that Hawaii remains a sovereign nation, occupied by the United States, and was never legally annexed. Gumapac says the wheels are in motion at the international level to address that injustice.
But this story begins with a house in a quiet part of Puna's Hawaiian Paradise Park. It was an attractive prospect to Kale Gumapac, years ago.
Kale was able to secure financing and go to closing. Like anyone who has ever bought a real estate property, there was a lot of paperwork involved. And when the paperwork was done, Gumapac had his new home.
Sadly, Gumapac would lose that home years later after an unusual foreclosure. We covered many of the events leading up to the ultimate moment of eviction, although we met Kale Gumapac years before. When we first filmed him in 2008 – Kale was already living at his HPP home – he was the alaka'i of the Kanaka Council, and he had political aspirations, running for the Hawaii County Council seat serving the Puna district in 2008.
We soon learned that Gumapac did not hesitate to raise his voice in public, like he did on behalf of the I'o, or Hawaiian hawk, which was under consideration for a delisting as an endangered species. His Hawaiian activism made him a familiar face at meetings and hearings, speaking out on the cultural impacts of development or military training. He also advocated for kanaka maoli to get what he thought was their rightful share, whenever Hawaii's natural resources where concerned.
But in 2010, Gumapac's focus changed. He teamed up with Dr. Keanu Sai, a Ph.D. in Political Science specializing in Hawaiian Constitutionalism and International Relations, and who also happens to be the lead Agent for the Hawaiian Kingdom in proceedings before the Permanent Court of Arbitration at The Hague.
Locally, though, Sai is best known for his eye-opening presentations on Hawaii's hidden history. Most who sit down to hear Keanu speak leave with a new understanding of Hawaii's sovereign situation.
Kale Gumapac was one of those who gained a new perspective… one that was about to affect his Puna home. Kale recalls his conversations with Dr. Sai. And remember all that paperwork Gumapac signed when he purchased his home? Dr. Sai told Gumapac it contained the answer for what to do next.
---
PART TWO: The Executive Agreement
The former home of Kale Gumapac now sits empty on 2nd Avenue in Hawaiian Paradise Park. The bank foreclosed. Gumapac was evicted and taken away in handcuffs.
But Kale's fight is not over. Claiming he was only following his own contract with the mortgage lender, Gumapac is seeking legal recourse at home and abroad, with the help of Dr. Keanu Sai. Not only is Sai the lead agent of the acting government of the Hawaiian Kingdom. He also gives a mean PowerPoint presentation.
We have video from a recent presentation done in Kona this year, part of the Kohala Center's Puana Ka 'Ike lecture series. The talk occurs every year at the same time: King Kamehameha III's birthday celebration, part of the same event that includes the well-known poke contest with Sam Choy.
Used with permission, this video illustrates Sai's argument, and also captures the look on the faces of the audience as their perspective on commonly understood history becomes forever changed.
The story begins in 1843, with Hawaii's quest for sovereign recognition. Sai makes it a point early on to explain who or what has the sovereignty in an independent state. Sai explores the numerous international treaties that the Kingdom of Hawaii entered into at that time, and details the citizenship and seperation of government; an important distinction.
Then Sai gets to the infamous act of treason; the overthrow of January 27, 1893. The events that day gave rise to the Executive Agreement; the keystone with which all arguments over today's Hawaiian sovereignty are built.
On this, Sai says the Queen Liliuokalani's decision was wise. However, at that time, the United States' top executive – President Benjamin Harrison – was unsympathetic to the queen's plea. On February 14, 1893, President Harrison went ahead and signed a treaty of cession with the provisional government, made up of the insurgents who had ousted the queen. The treaty needed senate approval. But fate turned in favor of the queen, at least temporarily. A new president was elected, and Grover Cleveland returned to office on March 4, 1893.
The treaty of cession was put on hold. James Henderson Blount was sent to investigate the overthrow, and his findings – issued on July 17, 1893 – are known as the Blount Report. It found that international law had been violated. President Cleveland moved to restore Queen Liliuokalani's power but as a condition Cleveland wanted amnesty for the insurgents.
A settlement was eventually negotiated. An agreement was forged in two parts. First was the assignment of law enforcement. The second part restored the power to the queen, but Cleveland needed congressional approval to carry out that restoration. Congress was unwilling, leaving Hawaii in a state of civil unrest. At this point in his presentation, Sai takes a moment to explain the power of an executive agreement like the one between the queen and the president. Those binding agreements are passed down to successors. Sai gave an example of that binding nature of in the modern era, using Obama's campaign promise to withdraw troops from Iraq.
President Cleveland's successors in the oval office had their sites set on Pearl Harbor. Meanwhile back in the islands, Hawaiian activism takes shape. Thousands signed petitions asking the U.S. to withdraw from signing any treaties of annexation, and congress relented. But then, war came to the Pacific, when the United States entered into war with the Kingdom of Spain. A joint resolution to annex Hawaii was introduced. Some elected officials raise concern over the constitutionality of the Newlands resolution, but the measure got the votes it needed in the wartime political climate. What followed were a series of laws that ultimately resulted in Hawaii becoming the 50th U.S. state. Statehood was granted on August 21, 1959. And one hundred years after the overthrow of Queen Liliuokalani, an apology.
Accepting that Hawaii is an occupied state that never legally entered into a treaty of annexation comes with accepting numerous far reaching consequences. In his lecture, Dr. Sai jokes about one of those consequences, involving the current Hawaii-born president of the United States. He entitled it Why the birthers are right for all the wrong reasons.
Some folks in Hawaii are living out those consequences first hand. Which brings us back Kale Gumapac in Puna. Armed with an understanding of Dr. Sai's presentation, we asked Gumapac what specifically makes all property titles in Hawaii defective. He said there are two things. Gumapac's interpretation has deep implications for Hawaii's real estate market.
---
PART THREE: A Claim of Title Defect
In 2009, a foreclosure crisis had hit the country, and Hawaii was especially affected. In response, Hawaii passed one of the toughest foreclosure consumer aid laws in the country. Rep. Bob Herkes helped propose the legislation. Kale Gumapac had another idea to combat the crisis. Based on the research of Dr. Keanu Sai, Gumapac started a company, Laulima Title Search & Claims, to try to block foreclosures.
Keanu Sai was retained as a consultant. And Gumapac himself would be one of the first clients. This argument has been made before. In the 1990s, the company Perfect Title challenged the validity of title in court. Keanu Sai was one of the Perfect Title principals. Sai details the company and its relationship to the acting government of the Hawaiian Kingdom in a presentation uploaded to Vimeo.
Eventually the company was raided by authorities – Sai says its because Perfect Title was threatening to upend the Hawaii real estate market. Sai was later indicted on an attempted theft charge in court. A jury found Sai guilty of first-degree attempted theft for helping a couple try to reclaim an Aiea home they lost through foreclosure.
Perfect Title is now defunct. And Kale Gumapac's Laulima seems to pick up where that company left off, informing Deutsche Bank of the defect he says exists in the title to his own property in Hawaiian Paradise Park. But according to Kale, the bank apparently had its own plans on how to move forward.
Gumapac had the documents with him, showing the foreclosure went to court in summer of 2011. Dianne Dee Gumapac was the defendant… thats Kale's ex-wife whom he shared the home with. Deutsche Bank is the plaintiff. The judge was the Honorable Harry Freitas. Attorney Dexter Kaiama represented Gumapac.
Gumapac and his wife Dianne have since divorced. Kale kept the house. And with it, the continued foreclosure litigation. Now, Gumapac and Laumlima would employ a different tactic. They would begin to argue jurisdiction, which would lead to this press conference in May of this year, held in Kale's still-occupied home on 2nd avenue, the home base of Laulima Title, surrounded by the other clients of Dexter Kaiama who were also fighting foreclosure.
---
PART FOUR: War Crimes
It may seem like legal retaliation taken to an extreme: Complaints of war crimes made against judges and sheriffs officers. Recently, the accusations have been flying fast and furious.
In our previous installment of this five part series, Kale Gumapac detailed his legal fight with Deutsche Bank in court. In February of 2012, Gumapac filed a motion to dismiss Deutsche Bank National Trust Company's eviction complaint in Hilo Circuit Court, providing evidence of the occupation of the Hawaiian Kingdom. The evidence was laid out by Dr. Keanu Sai in the second part of this series. Judge Greg K. Nakamura denied the motion to dismiss without cause. In a media release issued by Laulima Title Search and Claims LLC, Gumapac alleged that Nakamura, Deutsche Bank National Trust Company, and their attorneys all committed a war crime by willfully depriving him of a fair and regular trial prescribed under Title 18, United States Code, section 2441, which applies to foreign countries that the United States military is occupying.
There would be more complaints of war crimes eventually, but first it might help to see what was happening at the international level at this same time. Dr. Keanu Sai has been testing the recognition of Hawaiian Kingdom sovereignty in international court for years.
For example, he represented the kingdom in the Hague. After that, he set him sights on the United Nations General Assembly. And on August 10, 2012, Sai filed a Protest and Demand against the United States of America with the President of the U.N. General Assembly. Sai says there is another international body getting involved: the International Criminal Court.
Back on the islands, Kale Gumapac was getting fired up as the international pressure mounted. Outside the Hale Kaulike Courthouse on August 31, 2012, supporters of Hawaiian sovereignty gathered to hear the latest news from Gumapac and Dexter Kaiama, attorney for Elaine Kawasaki, after a proceeding for an eviction hearing before Judge Hara. Sai's Protest and Demand was part of the evidence submitted by Kaiama.
In May of 2013, with a growing list of clients looking to Laulima Title and the Hawaiian Kingdom for help as they faced their own foreclosures, there was another round of war crime complaints. We sat down with Gumapac, Kaiama, and a number of their clients, at Gumapac's home in Hawaiian Paradise Park. Kaiama was not representing Laulima Title, he said, nor their title defect argument. He was there to challenge the court's jurisdiction. Kaiama also explained his legal recourse now that he has deemed the courts lack jurisdiction. Clients of Laumlima Title placed all hope into Kaiama's legal strategy.
March 4, 2103 was said to be the date that ICC jurisdiction would begin in Hawaii. We have been told that when that date came to pass, there were a lot of nervous employees in the state's judicial branch. Sources say some courts were ready to go on lockdown in anticipation of some sort of action by Hawaiian sovereignty groups. Keanu Sai told the crowd in Kona an interesting story about that time.
---
PART FIVE – A Hidden History
In August of 2013, time was running out for Kale Gumapac. Undeterred by accusations of war crimes, the state began enforcing the eviction. Video shot by Nanci Munroe shows State Sheriff Patrick Kawai serving notice to Gumapac at his Hawaiian Paradise Park home, which is also the base of operations for Gumapac's Laulima Title Search and Claims, LLC. While being served, Gumapac tried to warn Sheriff Kawai that because of his actions, he too would be guilty of war crimes.
As we follow the unfolding story of Kale Gumapac and his argument that Hawaiian Kingdom law applies in his case and others, we ask: Could the people of Hawaii accept the idea that the islands are occupied by the United States? The possibility seems unlikely at this moment in time, given the strong sense of American patriotism that many in Hawaii feel. But imagine if everyone could accept the idea. How would authorities and leaders handle the discrepancies between U.S. and Kingdom law? The quandary has already come up. Confusing events unfolded during the investigation into alleged war crimes in circuit court.
The case of Hawaii County Police Officer Leland Pa would turn out to be one of the more mysterious aspects of this story. Hawaii County Police refuted Dexter Kaiama's claim in a media release, saying "The Police Department is conducting no such investigation" into certain state judges and attorneys for alleged war crimes. Kaiama disagrees. A written declaration of officer Leland Pa forwarded to us by Dexter Kaiama shows that Pa made a few phone calls about these allegations. Pa says he called the Office of the United Nations High Commissioner for Human Rights, Human Rights Council Branch and confirmed the war crime complaints were made. Pa swore that he then telephoned the headquarters of the U.S. Pacific Command and spoke with Principal Deputy Staff Judge Advocate Ronald Winfrey. According to Pa, Winfrey even admitted – without hesitation – that there is no treaty of annexation, and that the executive agreements have never been ruled on in the U.S. Supreme Court, remaining unresolved. Apparently, officer Pa's phone calls did not sit well with his superiors.
Kaiama forwarded copies of numerous internal police complaint reports, alleging that Pa violated police standards of conduct and misused his position when he called state of Hawaii judges and attorneys – while off duty – informing them that they are the subjects of war crime complaints and requested that they be interviewed as a part of his investigation. The police department said in the internal complaint documents the calls constituted prohibited subversive acts according to its standards of conduct. The police department also found fault with the police reports generated by Pa in regards to the case. Police could not talk to us about the situation as it is considered an internal personnel matter. And the most bizarre twist in the Leland Pa situation was when we uncovered – only recently – a description of officers in the acting government of the Hawaiian Kingdom, on its own website. Listed as the acting Sheriff for the Island of Hawai'i was Leland Pa, patrolman with the Hawai'i County Police Department. We are told that Pa continues to serve in that position.
If authorities seem confused, it can be understood. Hawaii's sovereign status is still not commonly accepted and is still hotly debated. The fact that parts of Hawaii's history have been hidden is also a symptom of war crimes, as Dr. Keanu Sai points out.
New evidence is always surfacing. Knowledge of critical events have been lost over the generations, only to recently be rediscovered, like the Ku'e Petition. Today, the Ku'e Petition is recognized by the descendants of the people who signed in defiance of annexation. On occasion, the exhibit dedicated to the written protest travels around the islands. Here was the stop made in Waimea at about this time last year. The events were faithfully re-enacted in a play, introduced by Pua Case; an entire story that only a short time ago had been lost to history. An illustration of how emotions over Hawaiian sovereignty still run high, and that a passion to protest still festers in the sons and daughters of the kingdom's original activists.
As for the protest of Kale Gumapac: his last stand came to an end just a few weeks ago. Gumapac was escorted off his property in handcuffs, but had some parting threats for the sheriffs officers who arrested him.
And one last surprise for the authorities. Gumapac by chance had a houseguest there that day, who witnessed the entire arrest and ejectment: Dr. Kenu Sai, a face that is becoming well known internationally – and on the homefront – at the dawning of the next chapter in the story of Hawaiian sovereignty.
NEXT: There will be one final update to this feature story page. It will consist mainly of links to additional resources and a mahalo to all the people who contributed to this report.
Bookmark this page, for all five parts will be published here. Stay tuned!