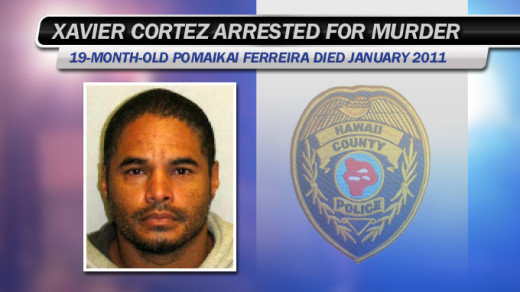 HILO, Hawaii – Police announce they have arrested a 38-year-old Mountain View man for the January 2011 murder of 19-month-old Pomaikai Ferreira.
The following media release was issued on Tuesday:
At 9:40 a.m. Tuesday (January 28), acting on a tip, police arrested Xavier J. Cortez Jr., also known as Pee Wee Cortez, on the strength of a sealed arrest warrant for second-degree murder. He was located at a home in the Livingston subdivision in Mountain View and taken into custody without incident.

On January 22, the case was presented to a grand jury, which returned an indictment for second-degree murder. At the request of police and the prosecutor, the indictment was sealed while police actively searched for Cortez.

Cortez was held without bail until he made his initial court appearance Tuesday afternoon.

On January 2, 2011, police received a report that 19-month-old Pomaikai Ferreira had been taken to Hilo Medical Center and was experiencing difficulties breathing. She was transferred by air ambulance to The Queen's Medical Center on Oahu, where she died on January 9, 2011.Hawaii Co. Police media release, Jan. 28, 2014
Police arrested Cortez on suspicion of first-degree assault back on January 2, 2011 – the same day 19 month old Ferreira was first brought to the hospital. He was released two days later pending further investigation.
The medical examiner ruled Ferreira's death a homicide as a result of crainiocerebral injuries "due to, or as a consequence of, abusive head trauma", police say.