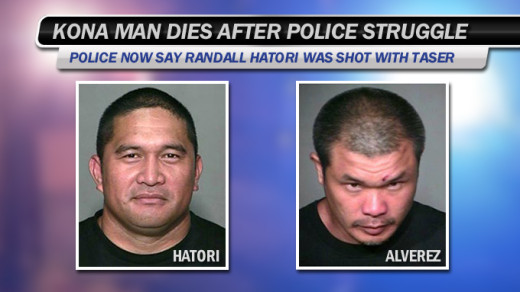 KAILUA-KONA, Hawaii – Police say an autopsy was conducted Wednesday on the body of 39-year-old Randall Hatori of Kailua-Kona, who died Tuesday in police custody after his arrest. However, the medical examiner deferred the cause of death pending toxicology and histology results.
Police now say a taser was used to subdue Hatori, after he fled arrest shortly after midnight at a Kona gas station following a traffic stop.
The driver, 38-year-old Ernest Ricky Alvarez of Kailua-Kona, was arrested on a $10,000 bench warrant for contempt of court.
Hatori, who was a passenger and was wanted for assault and violating temporary restraining orders, took flight.
The arresting officer ran after him and a struggle ensued.
The police department says in the latest media release that the officer was initially unable to restrain Hatori, and deployed his conducted electric weapon (commonly known as a "Taser"). Even then, police say Hatori continued to actively resist arrest and the struggle continued. Other officers responded to the scene and assisted in restraining Hatori. After Hatori was placed in handcuffs, he became unresponsive, police report.
Fire Department EMTs on scene attempted resuscitation and then transported Hatori to Kona Community Hospital, where he was pronounced dead at 1:53 a.m.
Detectives recovered 7.3 grams of methamphetamine at the scene of the struggle.
The Police Department's Area II Criminal Investigations Section is continuing to investigate this incident as a coroner's inquest and an assault on a police officer.
In addition, the Office of Professional Standards is conducting an administrative investigation, as is standard practice in any police involved death.
Alvarez meanwhile remains at the Kona police cellblock while police investigate possible drug charges.