HAWAII ISLAND – The Japanese Folk music of Yumi Kikuchi and Gen Morita was one of the highlights of the 21st annual Waimea Cherry Blossom Festival. But the duo also had an important message to share with the audience on Saturday.
While the Fukushima Kids Hawaii Project does a lot of work for those living in the nuclear shadow of Fukushima, Kikuchi and Morita are also concerned about the effects of radiation here in Hawaii. Thats why they support a bill in the state legislature that would call for monitoring around Hawaii.
State Senators Josh Green and Russel Ruderman have introduced SB3049 which requires the Dept Of Health to implement a pilot project to monitor radiation levels over the next five years and to post periodic reports on its website.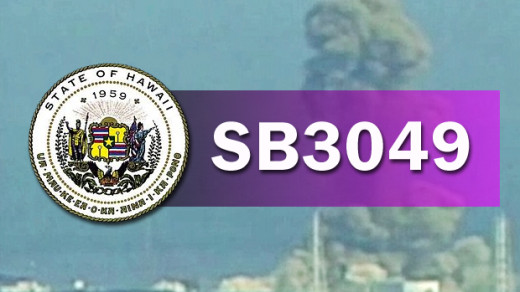 According to the bill, the Department of Health shall:
(1) Measure and monitor radiation levels in items such as food, dairy products, rainwater, aquifers, and drainage ditches that may be susceptible to increased radiation levels due to the March 11, 2011, Fukushima nuclear disaster; and

(2) Post periodic reports on the department's website of those radiation levels and their significance to the State.
The Fukushima Daiichi nuclear power plant went into meltdown after the March 11, 2011 tsunami battered Japan (the effects were felt to a lesser degree in Kona, as well). While the event changed the face of the country's coast and forced villages and towns around the plant to become radioactive ghost towns, the rest of the world has concerns that radioactive cooling water flowing from the plant's damaged reactors will pollute the Pacific Ocean or rain down from the jetstream. Hawaii hopes to obtain better data on Fukushima's environmental effects on the islands.
The companion bill in the House is HB2600.
---

IN SUPPORT
Hawaii, a close neighbor of the nuclear disaster at Fukushima, sits poised to be further enveloped by radioactive elements brought by air and Pacific Ocean currents from Japan. Being a new sort of disaster, we find ourselves stunned and confused with conflicting reports, and after over two years, still unable to fathom how to cope with a continuing and escalating catastrophe here in our Island chain. Sea life and drinking water are two of the most affected aspects, and on Molokai, fishing is such a part of daily life that we need to think seriously about current levels of radiation.

To address this problem, a bill has been introduced to Hawaii legislature that would require the Department of Health to conduct a five-year to study radiation levels in Hawaii.

Currently, our government is not measuring, at least to our knowledge, suspected areas of concern, and has stated that they quit measuring back in 2011. How can we safely be assured that our food products, drinking water, rain, and debris on our beaches are not contaminated  when we know that we are in the radiation plumes? Dairy farms on Hawaii Island have been measured and are showing elevated levels of radiation. The projected ocean plumes of radiation from Japan have already swept by us, hit California, and are returning to us again as shown by scientific dispersion charts.Jade Bruhjell in a letter shared with Big Island Video News
Hawaii needs to look after our own best interest. We can't count on the Nuclear Industry and Japan to do it. Radiation detection of the air, ocean, soil and food supply needs monitored since Fukushima is out of control.Peggy McArdle
There is talk of dilution, but due to currents, the radiation could be directed in channels. Albeit it would tend to disperse, Fukushima is the gift that keeps on giving, so we have no idea how much more radiation will be ported into the ocean. The melting of echinoderms on the US mainland is suspicious, along with other organisms suffering what appears radiation sickness problems. If that is what is affecting mainland marine organisms, imagine what it would do for us here in Hawai'i. The entire ocean could use monitoring, as the food chain affects all of us. The radiation plume is on its way across the ocean and from what I understand, the lame stream media isn't covering it and the Japanese government is still preventing any news out of the country until after an election. This is unsatisfactory, as this radiation affects all Pacific nations.Dave Kisor
In summary, the need for monitoring radiation levels on EACH island is essential. The continuation of this pollution of our air, water and soil by Japan (they now have a policy of secrecy to allow any further information out regarding the ongoing pollution)and the destruction of our major food source, fish, as reported by San Diego County, California with the contamination of the Ahi Tuna behooves us to begin a comprehensive monitoring program.

This monitoring would benefit from oversight of the Hawaii Department of Health with the sophisticated equipment and trained personnel on each island. Can we afford not to know what is impacting our food supply our pregnant mothers and future generations. Sherrian Witt
---


Status of bills represent up-to-date information via State Legislative website
SB3049 – Requires DOH to implement a pilot project to monitor radiation levels over the next five years and to post periodic reports on its website.
[hungryfeed url="http://www.capitol.hawaii.gov/session2014/rss/SB3049.xml" feed_fields="" item_fields="title" max_items="1″]
HB2600 – Requires DOH to implement a pilot project to monitor radiation levels over the next five years and to post periodic reports on its website.
[hungryfeed url="http://www.capitol.hawaii.gov/session2014/rss/HB2600.xml" feed_fields="" item_fields="title" max_items="1″]