(ABOVE) Residents of Puna talk story outside the Hawaiian Shores Community Center in Hawaiian Beaches
Video by David Corrigan
PUNA, Hawaii – Crews were working hard this week to remove trees and restore power for the battered Hawaiian Shores and Hawaiian Beaches subdivision.
We spoke to a few residents outside the Hawaiian Shores Community Center, where the Hawaii Electric Light Company set up a Customer Information Center this week. They described the exhausting situation unfolding within their subdivision. Inside the community center, HELCO spread maps out on tables showing the monumental task ahead for the power utility. Thousands across Puna are still without power.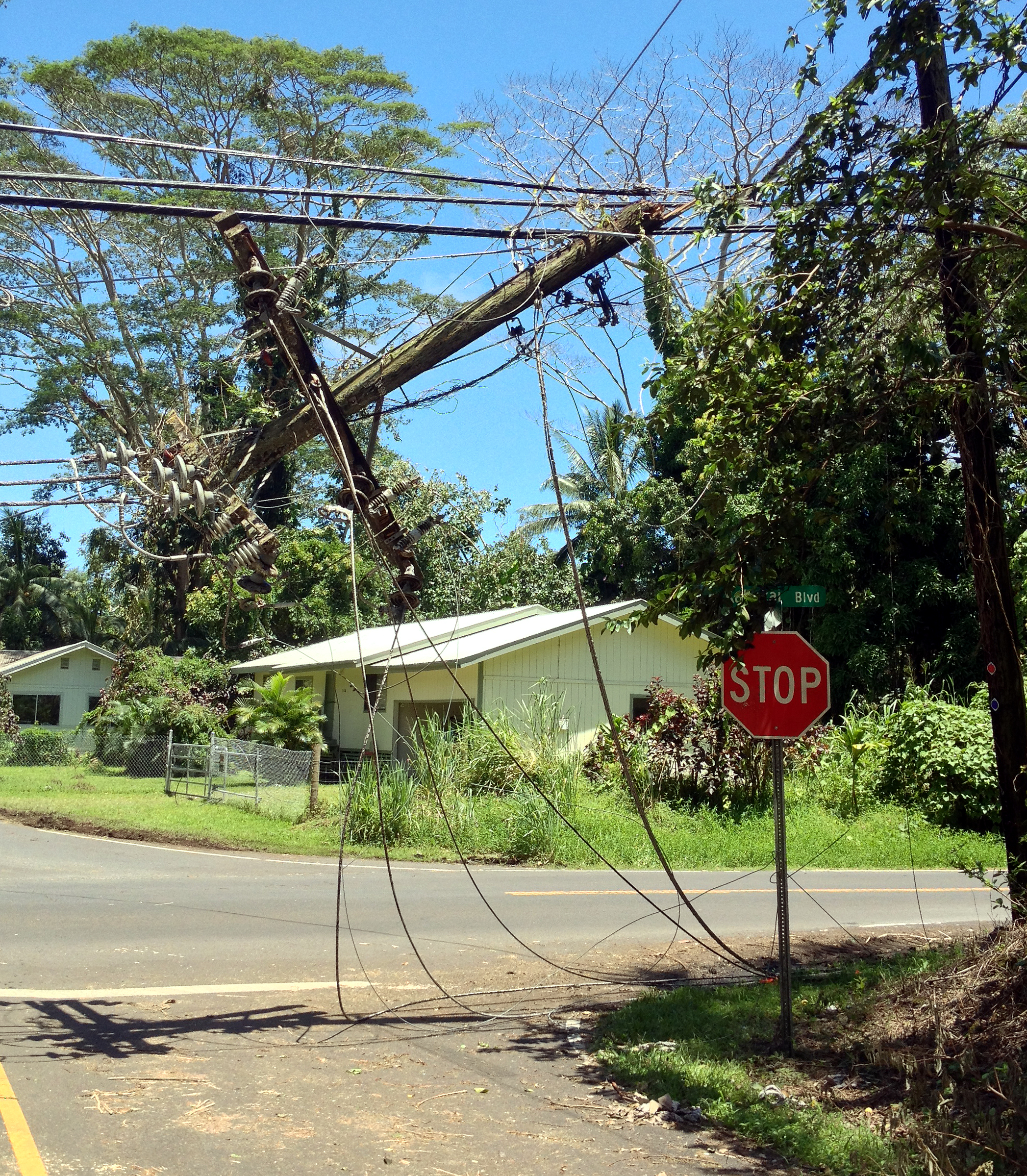 The latest from HELCO:
Crews continue to make progress on restoring power to customers affected by Tropical Storm Iselle. An estimated 6,800 – or about eight percent – of customers remain without power, down from an estimated 8,100 on Monday.

"We understand many of our customers are still dealing with a very difficult situation. We are devoting every available resource to this effort. We have made progress and are committed to restoring power as quickly as possible," said Darren Pai, Hawai'i Electric Light spokesman.

Electrical line crews from West Hawai'i have been redeployed to assist with the restoration. They joined a workforce that includes crews, equipment, and vehicles from East Hawai'i, Oahu and Maui. Additional contracted crews include electrical line workers, construction crews to dig holes for new utility poles, and tree trimmers to clear fallen trees.

Collectively, these resources are allowing Hawai'i Electric Light to maximize its efforts on restoring power in neighborhoods that are still without power.

Today, electrical line crews expect to make progress in the following areas: Hamakua, Upper Puna, Ainaloa, Hawaiian Beaches, and Hawaiian Paradise Park. Contracted crews will also be working in Leilani Estates and Nanawale. In addition, contracted tree trimming and construction crews are working to clear fallen trees, debris, and dig utility pole holes. This work is needed to prepare the area for electrical line crews to set new poles and repair fallen power lines and other damaged equipment. Restoration progress may be impacted by access to due storm debris, fallen trees, or other conditions in the field.

Every community in the Puna district was impacted. There are pockets throughout the region where the damage is so severe that customers should be prepared for an extended outage. Although crews are making progress and restoration in many areas may be much faster, preliminary estimates indicate it could take up to three weeks to restore power to the areas with the most significant damage, and in some cases even longer. These estimates are still preliminary and actual restoration times for each location will depend on the extent of the damage.

As a safety precaution, customers should not handle or move any fallen or damaged utility equipment. Customers are also reminded not to approach any downed power lines, as they may have electricity running through them and can be dangerous. If you see someone injured by a downed power line, call 9-1-1 for assistance.

Hawai'i Electric Light continues to operate its Customer Information Center at the Hawaiian Shores Community Center in Hawaiian Beaches. An estimated 300 to 400 people visited the center when it opened on Monday. Company representatives will be on hand to answer questions from the public and provide the status of repairing the damage. Customers may bring their electronic devices and get them charged. A charging station will be available at the center.

The center will remain open daily from 8:30 a.m. to 4:30 p.m. as the restoration process continues.HELCO media release, Aug. 12 at 11:30 a.m.