(ABOVE VIDEO) Solomon Singer introduces the HELP Puna website, followed by Rene Siracusa who thanks the county for their help.
Video by David Corrigan
PAHOA, Hawaii – Animal owners living in the ranch lands of Kaohe Homesteads learned about a number of different options for their livestock during Tuesday's public meeting at Pahoa High School.
Syd Singer and his family (The Good Shepherd Foundation) has created resource for affected owners. Hawaii Evacuation of Livestock and Pets (H.E.L.P.) Puna, which Singer describes as a non-profit "Craiglists" for "connecting people with livestock and pets, with people who have space to board them."
The Good Shepherd Foundation is accepting donations to help people with transportation costs, feed, and boarding fees. They have a website: helppuna.org.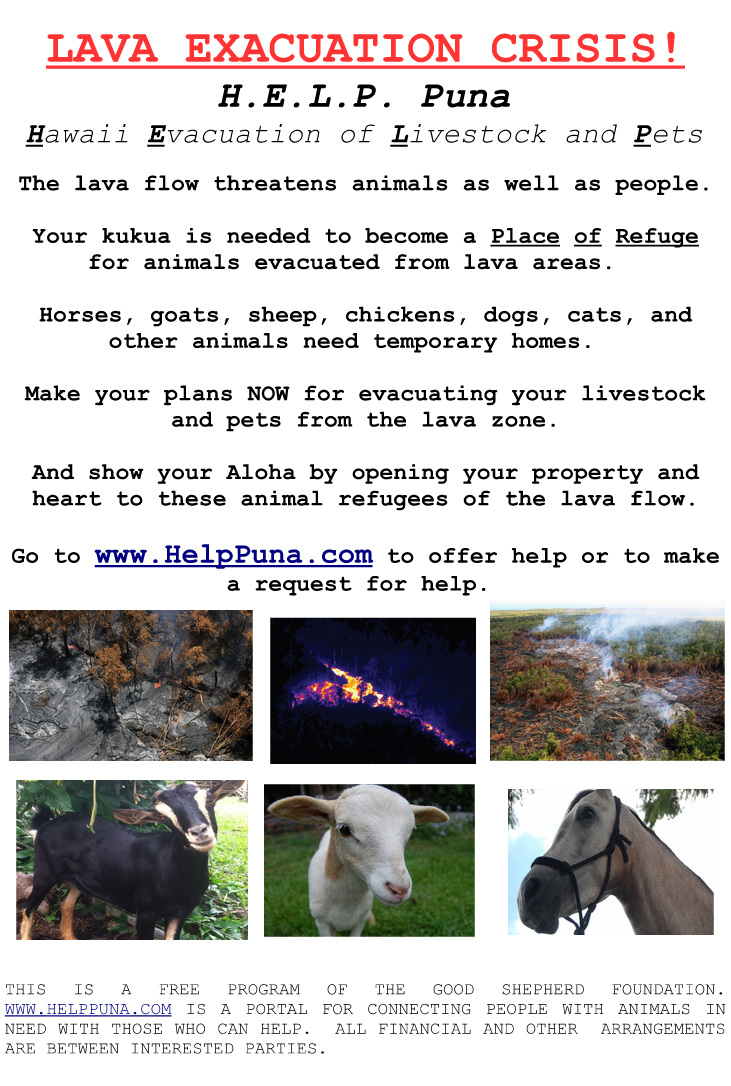 Singer sent us a flyer for the resource (above), and his son Solomon addressed the crowd in Pahoa on Tuesday night. Kaohe resident and Malama O Puna member Rene Siracusa also informed the crowd of other options that are available. She thanked Civil Defense head Darryl Oliveira for all his work in coordinating help for the animals.
The Hawaii Island Humane Society recently shared a few tips to help keep animals safe in the event of an evacuation:
HIHS encourages all pet owners to be safe and prepared. If you are advised to evacuate, please consider your pet's safety. Do not leave animals behind.

Develop a plan for their ongoing care including transportation arrangements.

Larger animals including horses and livestock may need to be moved well in advance. Call friends or family members to locate alternate pastures.

Gather items for your pet's emergency kit –

Crate
Leash
Food
Water
Bowls
Towel
Identification
Medication (if applicable)

If you evacuate, arrive at your destination prepared with your pet's emergency kit and take your pets! Hawaii Island Humane Society