University of Hawaii issues PSA on snow removal effort
MAUNA KEA – The blizzard warning has been lifted for the summits areas on Hawaii Island, but deep snow remains atop Mauna Kea and Mauna Loa.
The high wind warning has also been cancelled and replaced with a wind advisory, reports the National Weather Service. The advisory is in effect until 6 p.m. this evening. Northwest winds will blow 30 to 50 mph with localized gusts over 60 mph.
Snow removal crews are now challenged by the amounts accumulated at the summit. Here's what the rangers reported early this morning:
The road to the summit of Maunakea is currently CLOSED due to heavy accumulations of snow and ice on all summit roads. Our snow removal crew worked hard all day yesterday attempting to clear the large amounts of snow from summit roads, however due to continuing snow fall and strong winds, all summit roads continue to be impassable to vehicles. Weather permitting, snow removal operations will resume again early Friday morning. Maunakea Rangers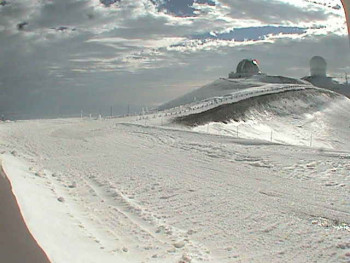 The University of Hawaii-Hilo, which manages the summit area of the mountain, issued a public service announcement this morning about the effort to clear the roads. That message can be heard in the video above.
Mauna Loa, the world's largest active volcano and neighbor to Mauna Kea, is also covered in snow. The Hawaii Volcanoes National Park reports the Mauna Loa Summit remains closed for backcountry use due to the continued winter storm conditions.