Hurricane Guillermo Update – 8 a.m.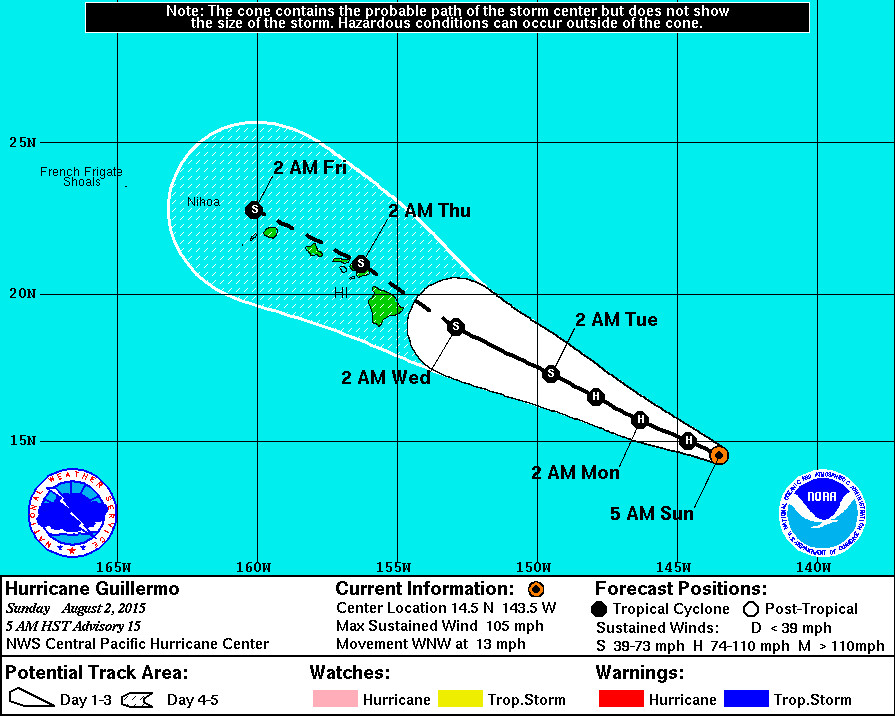 Hurricane Guillermo is 845 miles east southeast of Hilo, Hawaii. It is moving west northwest at 13 mph.
Guillermo is a Category 2 hurricane. Maximum sustained winds remain near 105 mph with higher gusts. Slow weakening is expected during the next couple of days, but Guillermo is forecast to remain a hurricane through Monday.
A High Surf Advisory is now in effect for east facing shores of all islands. The National Weather Service says surf will building to 5 to 8 feet this afternoon… 8 to 12 feet tonight… and 10 to 14 feet Monday.
Hawaii County Civil Defense says the community is encouraged to take this time to prepare for possible storm impacts that could include high surf, strong winds, and heavy rains. "Although there is some indication the system will weaken," the latest Civil Defense message says, "early preparations are recommended and encouraged."
NWS Discussion – 5 a.m.
The deep convection around Hurricane Guillermo appears to be slightly better organized early this morning in infrared satellite imagery. The most recent subjective dvorak current intensity estimates from SAB… HFOand JTWC were all 5.0/90 kt. As a result… The initial intensity will remain 90 kt for this advisory.

Guillermo continues to move toward the west-northwest or 285 degrees at 11 kt. The main steering feature is the western end of a deep subtropical ridge located north and northeast of the hurricane. However…There is a break in the mid- and upper-level ridging to the northwest of Guillermo… And an upper-level trough is expected to deepen to the north of the hurricane later today. As a result… The forward motion of the tropical cyclone is expected to become somewhat slower starting later today or tonight. Most of the objective track guidance based on reliable dynamical models and the consensus models is tightly clustered. The most recent track forecast is similar to the previous one through day 3. There is a very slight nudge to the right during days 4 and 5 due to a northward shift of the TVCN consensus guidance. Note that the latest forecast track continues to bring Guillermo very close to the main Hawaiian Islands from Wednesday through Thursday night.

In regards to the intensity forecast… As Guillermo moves into the weakness in the ridge aloft… The outflow will likely become disrupted in the northwest quadrant. At the same time… The environmental vertical wind shear will also likely increase. The current estimates of vertical wind shear in the vicinity of Guillermo are 12 to 13 kt from 305 degrees based on the latest UW/CIMSS and ships guidance. The adverse impacts of this shear on Guillermo are expected to become more significant starting in 48 hours based on the ships guidance. The current forecast continues to indicate Guillermo will be a weakening tropical storm as itapproaches the main Hawaiian Islands.

It is important for those in the main Hawaiian Islands not to focus too closely on the exact forecast track of the center of any tropical cyclone… Including Guillermo. The average 96 hour forecast track error is just over 200 statute miles… While the 120 hour forecast error is about 300 statute miles. It is still too soon to determine with any certainty which islands would most likely experience the greatest impacts from Guillermo. It is also important to note that significant impacts from tropical cyclones can extend well away from the center.

The first aircraft from the U.S. 53rd Weather Reconnaissance Squadron is scheduled to begin a reconnaissance mission into Guillermo later this morning. The valuable data transmitted in real-time from these missions will help us to better determine the location… Intensity and size of the hurricane. Also…The NOAA G-IV aircraft will conduct a synoptic sampling mission around Guillermo during its transit to Hawaii later today. This sampling should help the forecast models to have a better initialization of the ridging aloft and the deepening trough aloft in the vast data void regions of the Central North Pacific Ocean. – National Weather Service at 5 a.m. HST