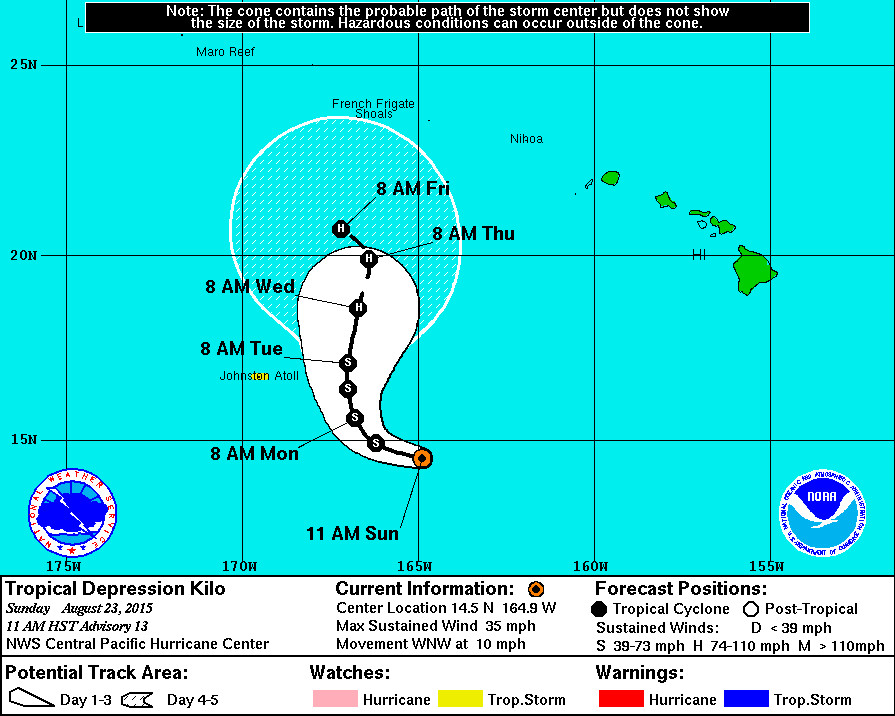 HAWAII – Tropical Depression Kilo is expected to regain Tropical Storm strength today, but its forecasted track is becoming less of a threat to the main Hawaiian Islands.
As of 11 a.m. HST, Kilo was 655 miles southwest of Honolulu and moving west northwest at 10 miles per hour. The National Weather Service expects the 35 mph winds to pick up, and has issued a tropical storm watch for Johnston Atoll. The latest track (above) shows Kilo heading off to the northwest by the end of the week, after a slow turn towards the north starting Monday.
From the National Weather Service:
Kilo continues to be steered westward by a mid level anticyclone centered to the east-southeast of the Big Island. A mid-level ridge extends west from this anticyclone to near 165w. The global models forecast the ridge to weaken beginning later today and tonight. As a result kilo will likely move into an area of weaker steering which would cause it to slow its forward motion as it turns toward the northwest within the next 12 to 24 hours. This would be followed by a turn toward the north-northwest in 24 to 36 hours… And then toward the north within 48 hours. After that… A turn toward the north northeast is forecast during days 3 and 4. This is due to a deep upper level trough that digs down north of the Main Hawaiian Islands. The sharpness of the re-curvature in the longer time range appears to be a function of the strength of the trough aloft. By day 5… A turn to the northwest is forecast as an anticyclone builds in north of the system. The latest track has been shifted to the left of the previous track and follows closely with GFDL and Gemi.
Hawaii County Civil Defense issued their final Kilo message this morning (above).
The state-wide Hawaii Emergency Management Agency says "the moisture wrapping around Kilo is impacting the entire state with potential for torrential rains/isolated thunderstorms. The NWS Flash Flood Watch for all islands continues and will expire at 6:00 p.m. on Monday."
"The public must remain vigilant to possible changes in Kilo's track," said Vern Miyagi, Executive Officer of HI-EMA, in a media release. "We ask the public to continuing monitoring news media for updated information."