HAWAII VOLCANOES NATIONAL PARK, Hawaii – For the third time in six days, a small explosion rocked the summit of Kilauea volcano.
The USGS Hawaiian Volcano Observatory reports a rockfall on the east rim of the summit vent within the Halemaʻumaʻu Crater triggered a small explosive event at 3:51 a.m. HST on January 8, 2016, littering the rim of the crater with fragments of molten lava.
The event was captured on USGS cameras and can be seen in the video above.
"When large rockfalls impact the lava lake, they trigger explosive events that propel volcanic rock fragments (tephra) upward," scientists wrote on the HVO website. "This morning's event was vigorous enough to hurl incandescent fragments onto the rim of Halemaʻumaʻu Crater, about 110 m (360 ft) above the lava lake surface."
USGS HVO says rockfalls and subsequent explosive events occur with no warning, "and the resulting fragments of hot lava and rocky debris thrown onto the crater rim pose a significant hazard in this area."
The lava lake in Halemaʻumaʻu has been at a relatively high level in recent days. At one point the lava level reached up to 92 feet below the floor of the crater.
"Explosive events like this occur more frequently when the lava lake level is relatively high," HVO scientists said, "as it has been this past week—around 30-35 m (100-115 ft) below the vent rim. Rocks in the vent wall expand as they are heated by the high temperature of the lava lake and become unstable. Sections of these unstable rocks can then collapse into the lava lake."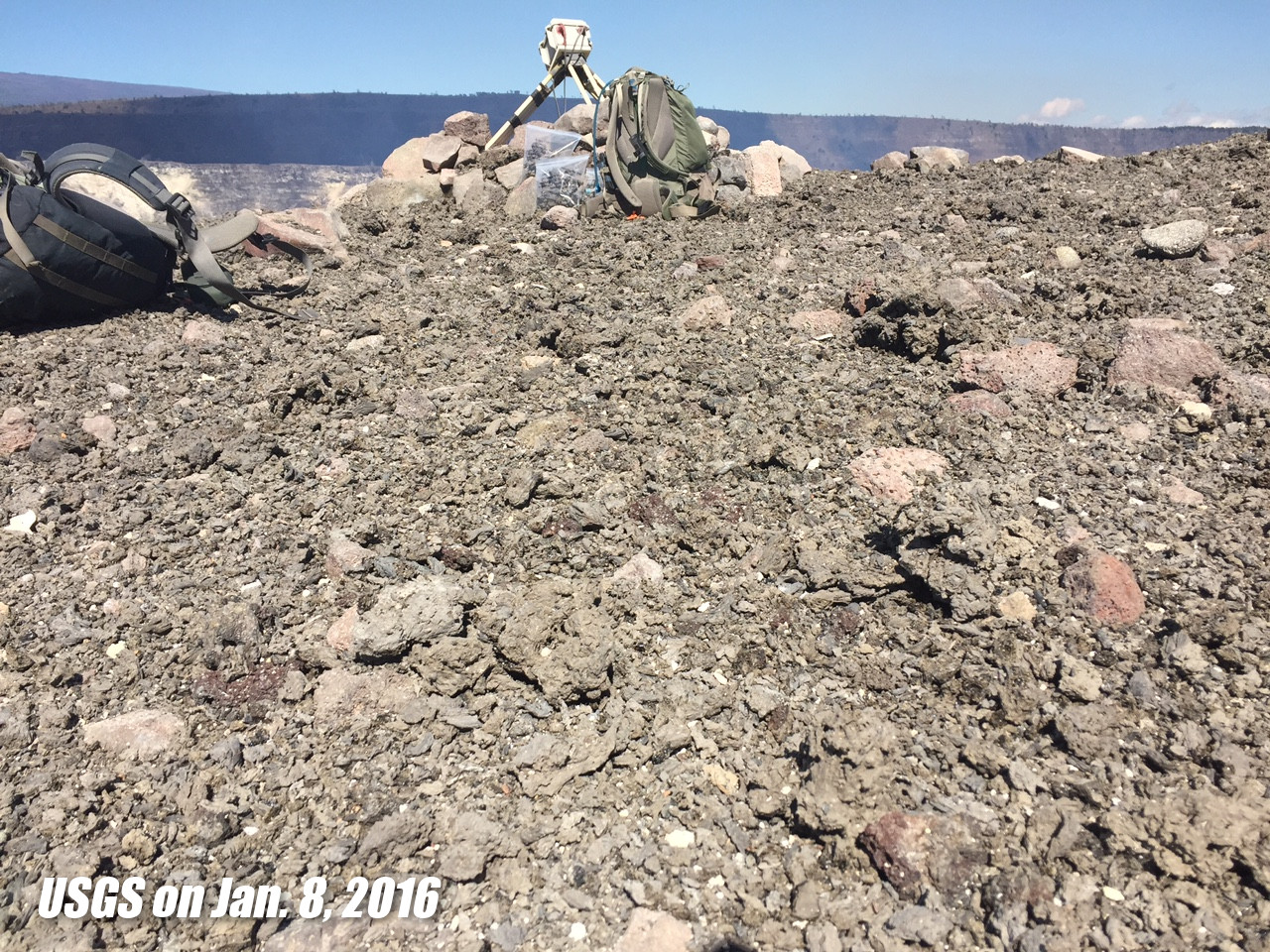 "The rim of Halemaʻumaʻu Crater was covered in a nearly continuous blanket of tephra following today's early morning rockfall and subsequent explosive event," scientists wrote of the photo abpve. "Tephra is the general term for volcanic rock fragments exploded or carried into the air during an eruption, and can range from dust-size particles to fragments more than 1 m (3.2 ft) in diameter. Two backpacks (in background), which belong to HVO scientists who briefly entered the area to collect tephra samples for laboratory analyses, provide scale for the fragments hurled onto the crater rim this morning."
In this image, HVO points out "you can see what remains of the Halemaʻumaʻu Overlook wooden fence, which has been repeatedly been bombarded by spatter and rock fragments since 2008. The blue bucket attached to the fence is one of HVO's tephra collectors so that lava fragments and rocky debris ejected from the summit vent can be quantified and analyzed."
On January 2, the first of the three events was documented by USGS HVO cameras (video below). On Janury 4, a second rockfall explosion took place.
Volcano Explosion Jan. 2, 2016

Volcano Explosion (Jan. 2, 2016) At around 2:17 p.m., HST, on January 2, a rockfall from the east rim of the Overlook vent within Halemaʻumaʻu Crater at the summit of Kīlauea impacted the lava lake, generating a small explosive event captured by HVO webcams. (courtesy USGS Hawaiian Volcano Observatory)

Posted by Big Island Video News on Monday, January 4, 2016