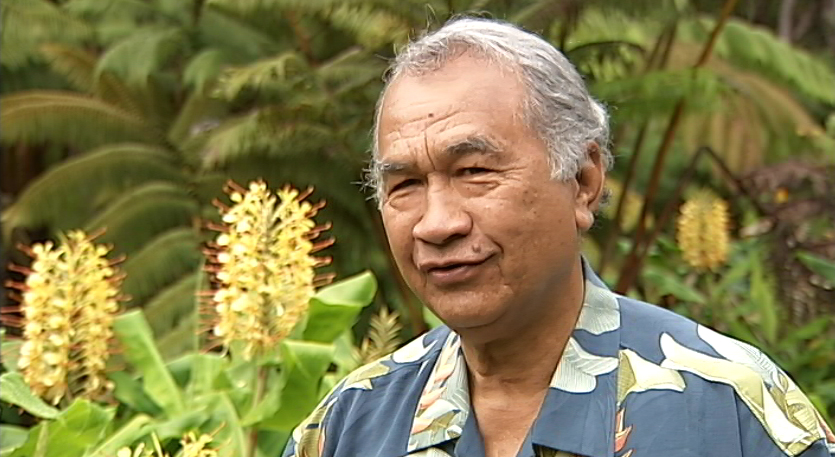 HONOLULU, Hawaii – Surrounded by his loving family, the Hawaii State Senate reports that Sen. Gil Kahale passed peacefully at 7:55 a.m. today at Queens Medical Center. He was 73 years old.
The Hilo senator was hospitalized with an undisclosed illness a few days ago and missed the start of the 2016 legislature.
Today, state and local leaders remembered the man who served Hawaii Island at home and at the capitol. Big Island Video News has received the following statements:
Governor David Ige: "It is with much sadness that I learned of Senator Kahele's passing. He was a dedicated public servant who spent the last few years working for the good of his beloved community at the Hawai'i State Legislature. He was a respected and influential leader both in the legislature and in his hometown community of Hilo. My deepest condolences to his 'ohana, friends and supporters during this difficult time."
Senate President Ronald D. Kouchi: "The Hilo community and the State of Hawai'i today has lost a great Senator, a gentleman, and passionate advocate who cared deeply about public service and the people he represented. I am honored to have served with him and I know his fellow colleagues in the Senate feel the same. Senator Kahele's family thanks the public for their words of support and aloha and respectfully asks for privacy at this difficult time. Senator Kahele's staff will be in the office to handle the concerns and issues of the district. His Tourism and International Affairs committee will be handled by the Vice Chair, Sen. J. Kalani English. I send heartfelt condolences to the Kahele family as we mourn the loss of this remarkable man."
U.S. Senator Brian Schatz: "Gil Kahele was one of the kindest, most decent, most caring public servants that I have ever known. His heart for the people of his community made him an effective leader, community organizer, and Senator. He was so kind to me and to everyone whom he touched. This is a sad day and he will be missed."
Lt. Governor Shan Tsutsui: "I am deeply saddened to learn today of the passing of my dear friend, Senator Gilbert Kahele. Gil was a warm and caring man with the highest principles and values, who had the unique ability to always make you feel welcomed and at ease. I was honored to have served as his colleague in the Senate and to have continued our friendship thereafter. I will miss his kindness, positive outlook, and ability to make me laugh. I send my thoughts and prayers to Gil's ohana and friends. He was a committed and loving husband, father and grandfather, who spoke often of his loved ones with great joy and pride. The people of Hawaii were privileged that a man of his experience and dedication devoted his life to public service. His smile and infectious laugh will continue to live on in our hearts and minds forever."
Speaker Joseph M. Souki: "It is with great sadness that we, in the House, learned about State Senator Gil Kahele. His contributions as a native Hawaiian, a Big Island resident and public servant to the entire state will be greatly missed. We mourn his passing and extend our thoughts and prayers to his family."
Hawaii Island House Delegation: "All of Hawaii Island and the state of Hawaii have lost a wonderful individual and energetic public servant. As a Native Hawaiian born and raised in Milolii, Gil was truly a keiki o ka aina, and a gentleman who always had others in his heart before his own concerns. Our thoughts and prayers go out to his family and to all who felt Gil was a part of their family. He will be sorely missed at the Legislature."
Kahele was appointed to a vacant 2nd District State Senate in 2011 by then-Governor Neil Abercrombie, after heading Abercrombie's East Hawaii election campaign. At the time, Kahele's position placed him in the service of a portion of Hilo, Puna and Ka'u on the Big Island. Following reapportionment, Kahele was elected to represent the entire community of Hilo as the 1st District senator.
"As a visionary and proponent for strengthening Hilo's economy," the State Senate reflected on Tuesday, "Sen. Kahele sought ways to help create jobs and business in his district. Among his many accomplishments, Sen. Kahele was instrumental in bringing much needed funding to build the Daniel K. Inouye College of Pharmacy at the University of Hawai'i at Hilo. He also was a staunch supporter behind the creation a world-class School of Aviation at the underutilized Hilo Airport and the University of Hawai'i at Hilo."
Services for Sen. Kahele are pending.
---
Remembering Senator Gil Kahele

It is being reported that Hilo's State Senator Gil Kahele has passed away. The late senator was hospitalized a few days ago and missed the start of the 2016 legislature. This video (filmed on Jan. 15 and published on Jan. 16) captures one of his final public appearances in Hilo where he spoke positively about the future of Banyan Drive and the Hilo way of life. Just a small memory of this respected man, born in South Kona, who grew up to serve Hawaii at the highest levels. He was 72.

Posted by Big Island Video News on Tuesday, January 26, 2016