HAWAII ISLAND – There are no coastal watches or warnings in effect for Hawaii, however a Tropical Storm Watch "will probably be necessary" for the Big Island later today, forecasters say.
Tropical Storm Darby is currently 645 miles east of Hilo and is moving toward the west-southwest near 15 mph.
Darby has maintained its strength. Maximum sustained winds are near 65 mph with higher gusts. The National Weather Service says little change in strength is forecast during the next 48 hours. Tropical-storm-force winds extend outward up to 110 miles from the center.
Darby's current forecasted track brings it very close to Hawaii Island Sunday.
"The track forecast has again shifted very slightly southwest from the previous track over the next 72 hours," wrote the Central Pacific Hurricane Center in Honolulu in its 5 am HST discussion. "The mid-level ridge northwest of Darby will steer the storm west southwest with a very gradual turn to the west. Beyond 72 hours, Darby is expected to turn rather sharply toward the northwest as a low aloft in the Gulf of Alaska digs strongly south."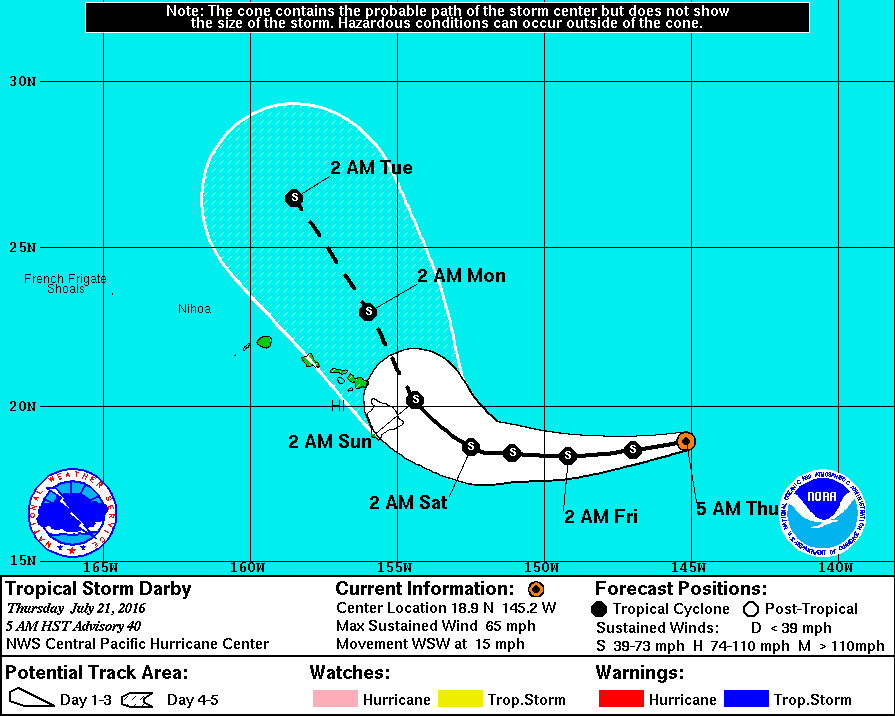 "This is a rather unusual track for a tropical cyclone in the central Pacific," forecasters say, "so there is a greater than normal amount of uncertainty to the forecast. Since Darby continues to track toward the main Hawaiian Islands it will probably be necessary to issue a Tropical Storm Watch later today."
Currently, Darby looks like it could be gusting over 60 mph when it comes closest to Hawaii, and there is little hope for dramatic weakening. "Darby will be moving over .5 degree Celsius warmer water the next couple of days," forecasters say, "while vertical wind shear is forecast to increase slightly. Darby is expected to remain surrounded by fairly dry air. With no big changes in the environment, little change in intensity is expected for the next few days. As Darby turns northwest in 72 hours it will be moving over cooler water and vertical wind shear will increase. Darby is expected to weaken steadily through day 5."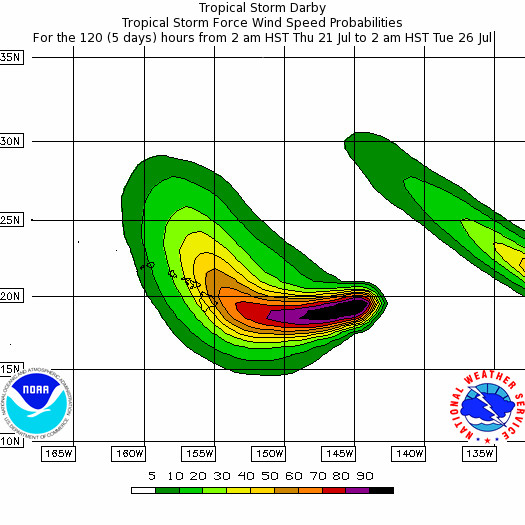 "Interests in the Hawaiian islands should monitor the progress of Darby," the National Weather Service states. "However, it is important not to focus too closely on the exact track and intensity forecasts because the average track error 72 hours out is near 100 miles, while the average intensity error is about 15 kt. In addition, the hazards of a tropical cyclone can extend over a broad area well away from the center."