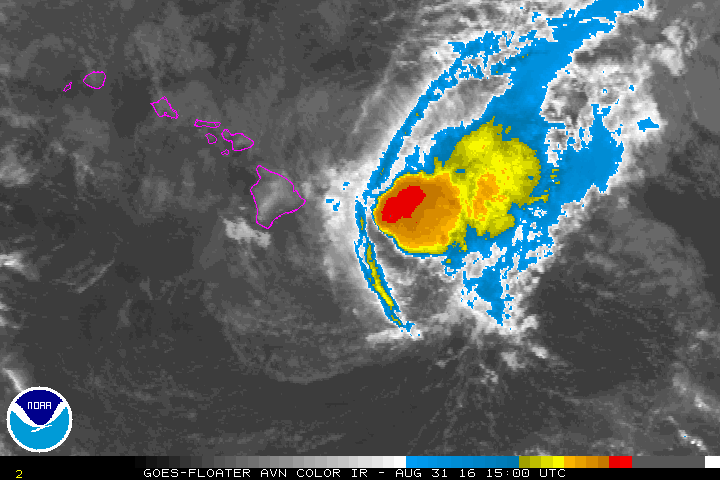 NOTE: The animation above was downloaded at 12:26 p.m. HST while the audio file beneath it is a revised Civil Defense message, more up-to-date than the one heard in the video at the top of the page. It includes an update on the full closure of Hawai'i Volcanoes National Park as of noon today.
HAWAII ISLAND – Although the National Weather Service has downgraded the Hurricane Warning for Hawai'i County to a Tropical Storm Warning, emergency officials warn Hurricane Madeline is still a powerful storm, and the public is reminded to be StormReady.
At 11 a.m. Category One Hurricane Madeline was 95 miles southeast of Hilo, and is forecasted to pass just south of South Point on the Big Island this evening.
As evidenced by the video recorded at 11:45 a.m. in Hilo (above), heavy rain conditions are already affecting the Big Island. Strong winds and high surf are also being reported.
If possible and safe, civil defense said, shelter in place or with family and friends. Otherwise, the following emergency shelters are open:
Waiākea High
Hilo High
Laupāhoehoe School
Kalaniana'ole Elementary
Honoka'a High and Intermediate
Waimea Intermediate
Waikoloa Elementary
Kohala High and Elementary
Kealakehe High
Konawaena High
Ka'ū High
Mountain View Elementary
Kea'au High
Pāhoa High
There are some new closures to report.
Hawai'i Volcanoes National Park closed at noon today until it is determined safe to reopen.
"The closure will continue until we have a chance to assess the impact to the park and mitigate any damage. With Hurricane Lester right on the heels of Madeline, and still a Category 4 hurricane, we could end up continuing the closure for a few days until it's safe to reopen," said Chief Ranger John Broward in a National Park press release.
Park staff and volunteers not directly involved in storm efforts were directed to stay home. Guests at Kīlauea Military Camp and Volcano House will shelter in place, or if necessary, be directed to the nearest shelter.

Rangers will assess impacts from Hurricane Madeline at 8 a.m. Thursday. The strongest winds are predicted to hit the park between noon and 2 p.m. Wednesday. Forecasters predict the park could see up to 10 inches of rain, maximum winds of 45 mph up to 75 mph (depending on the storm's track), and dangerously high surf.
Rangers will determine by Friday if the Kahuku Unit, open only on Saturdays and Sundays, will remain closed over the weekend.
Kaloko-Honokōhau and Pu'uhonua o Hōnaunau National Historical Parks are also closed today (Wednesday, August 31.) Staff will assess and determine status for Thursday.
Umauma Bridge on Route 19 on the Hamakua Coast will close in both directions beginning at 3:00 p.m. today due to the high winds associated with Storm Madeline. All traffic will be detoured to the Old Mamalahoa Highway.
Highway 19 will be closed between Leopolino Road and Kauniho Road. Motorists should follow the temporary detour signs that will be installed along the Old Mamalahoa Highway. Vehicles using the detour will be unescorted. Motorists should drive with caution, expect delays and adjust their travel times as needed. If possible, motorists are advised to avoid the area or use alternate routes. HDOT is coordinating with Hawaii County Civil Defense to assist with alerting the communities.
HDOT will continue to monitor the storm and will reopen the bridge when conditions subside.
Four Seasons Resort Hualalai announced over Facebook that it will also be closing at 3 p.m. today. The resort is expecting to re-open "once conditions are safe for our guests on Friday with an ETA of 3PM."