KURTISTOWN, Hawaii – One man was taken to the hospital after being hit by the car last night in Puna, and the suspect made a getaway on Highway 11 even after a police officer fired his gun at the escaping vehicle.
The Hawaii County Police Department issued this media release on Thursday: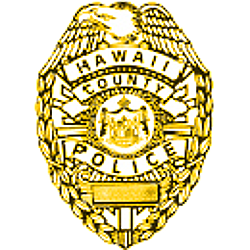 Hawaii County Police Department
on March 30, 2017
Hawaiʻi Island police are investigating an officer-involved shooting that occurred around 10 p.m. Wednesday (March 29) in Puna.
While responding to a request for assistance at a convenience store parking lot in Kurtistown, an officer observed a vehicle to strike a man who dropped toward the ground and disappeared from the officer's view. As the vehicle fled the scene, the officer was still unable to identify the location of the man who had been struck and felt the man's life may have been in danger. In the process of fleeing, the suspect vehicle also struck the officer's vehicle. In response to the imminent danger, the officer fired two shots toward the vehicle which continued onto Highway 11 heading South in the Volcano direction. The vehicle was later located abandoned in the Glenwood area. The male victim who had been struck by the suspect vehicle was taken to the Hilo Medical Center where he was treated for his injuries and later released.
The officer who fired his weapon has just less than two years of law enforcement experience.
Police have initiated a second degree assault investigation, as well as accompanying traffic related violations.
As is standard practice in any police shooting, the Police Department's Area I Criminal Investigations Section will conduct a criminal investigation into the shooting and the Office of Professional Standards will conduct an administrative investigation.
Police ask anyone who may have witnessed this incident or has information about it to call the Police Department's non-emergency line at 935-3311 or contact Detective Dean Uyetake at 961-2379 or dean.uyetake@hawaiicounty.gov.
Tipsters who prefer to remain anonymous may call the island wide Crime Stoppers number at 961-8300 and may be eligible for a reward of up to $1,000. Crime Stoppers is a volunteer program run by ordinary citizens who want to keep their community safe. Crime Stoppers doesn't record calls or subscribe to caller ID. All Crime Stoppers information is kept confidential.