(BIVN) – Coastal flooding will again be a possibility this weekend, as the King tides phenomenon coincides with the approach of Fernanda, which is currently a hurricane but expected to weaken as it draws near Hawaii.
According to a National Weather Service statement, the "greatest potential for coastal flooding impacts will be during the mid to late afternoon hours through the weekend, when highest tides are expected."
"Waves generated by distant Hurricane Fernanda are expected to lead to increasing surf along east facing shores the next couple of days, and this may lead to greater wave run-up along exposed windward coastlines," the forecasters wrote. "Impacts of the King tides may include flooding of beaches that are normally dry, salt water inundation of typically vulnerable low-lying roads, docks, boat ramps and other coastal infrastructure."
The Pacific Islands Ocean Observing System's "Six-Day High Sea Level Forecast" for Hilo shows some of the highest sea levels yet predicted for the 2017 King tides events.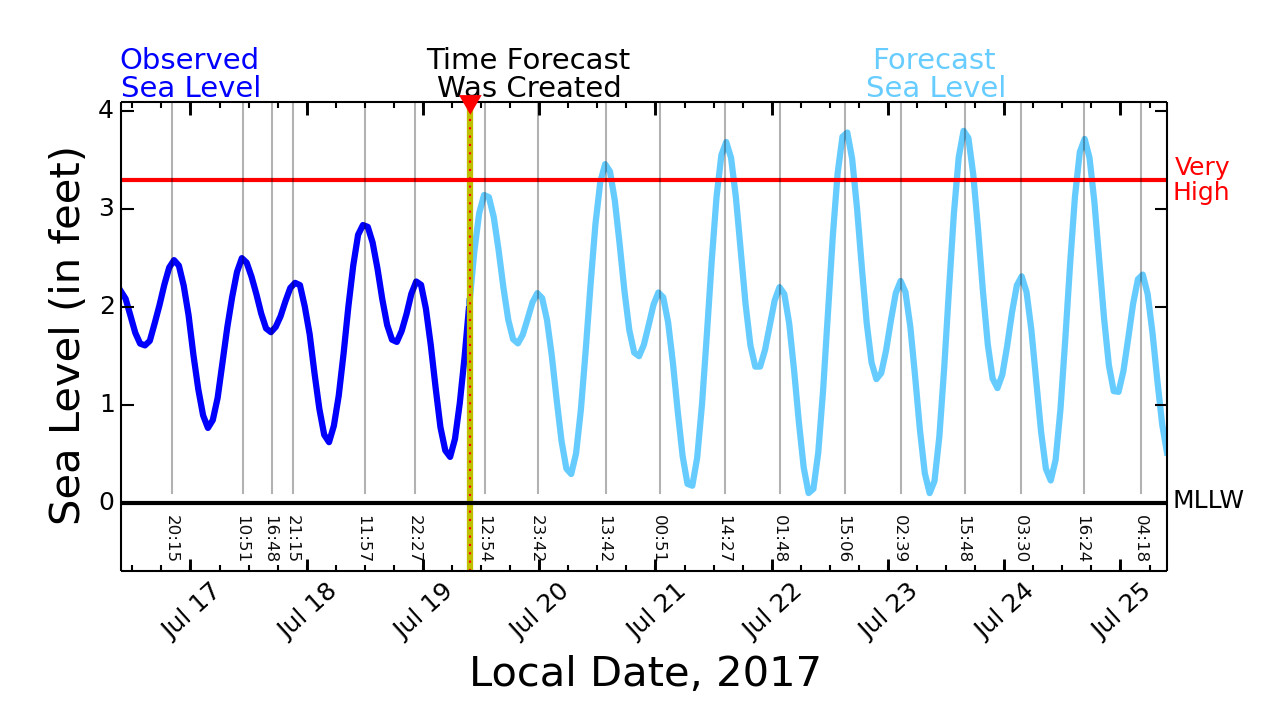 The Dark Blue Curve displays the Observed Sea Level at Hilo Harbor for the previous 3 days. The measurement is relative to Mean Lower Low Water (MLLW, a typical NOAA datum). The Cyan Curve displays the Forecast Sea Level at Hilo Harbor for the next 6 days. The forecast is also relative to MLLW, and includes tides plus multi-day sea level variations. The forecast is updated every 4 hours. The Red Line indicates the sea level height (3.3 ft.) that is exceeded by 2 percent of the observed daily Higher High Waters (HHW) based on a 19-year historical record (excluding tsunamis). When this sea level height is exceeded, flooding of the lowest lying lands begins.
The potential for coastal flooding will diminish early next week as the peak daily tides diminish, the National Weather Service says.
This will be the last of the upcoming peak astronomic tides of the summer, University of Hawaii researchers say. "The tides are expected to be among the highest recorded since record keeping started 112 years ago," a UH media release stated. "The king tides may produce flooding events and will provide a glimpse of what will eventually become routine with continued global warming and sea-level rise. The next king tides will occur in November."
Because of the unusually high tides forecast and possible storm swells from Fernanda, Hawaii County Civil Defense says the following precautions should be taken:
Ocean front residents, beachgoers, and boat owners are advised to be on the alert for high surf, strong currents and flooding.
As a precaution, consider postponing ocean activities until these hazards are over.
Special caution to the coastal areas in and around Kapoho during the high tide periods.
Visit tidesandcurrents.noaa.gov for more specific information about forecast tides and water levels in your area.
Hurricane Fernanda is roughly 1,235 miles east of Hilo.