UPDATE (4:25 p.m.) – The Winter Storm Warning for the summits, as well as the island-wide Flash Flood Watch, are no longer in effect.
UPDATE (1:50 p.m.) – The High Wind Warning is no longer in effect.
"Summit level winds have dropped considerably this morning," the National Weather Service said just before 11 p.m., "and they should remain below advisory levels through the remainder of the day as the upper level trough axis begins to move overhead. As a result, the High Wind Warning has been cancelled."
"Some additional snow may fall over the Big Island summits as the upper level trough approaches from the west today," the forecasters added. "As a result, the Winter Storm Warning remains in effect for the Big Island summits through 6pm this evening."
(BIVN) – Already under a Winter Storm Warning, the summits of Mauna Kea and Mauna Loa now face Category 2 hurricane force-winds.
There is no hurricane, of course. The National Weather Service in Honolulu has issued a High Wind Warning, which is in effect until 6 a.m. HST Friday. North winds of 65 to 75 mph will sweep over the already snow-capped summits, "with localized gusts over 110 mph."
"Motorists, especially those in high profile vehicles, are urged to drive with extreme caution or cancel travel within the affected area altogether," forecasters wrote.
Heavy snow is still possible, as well. "Expect damage to trees and power lines," the National Weather Service said this morning. "Additional snow accumulations of 2 to 5 inches are expected."
The road to the summit of Maunakea is closed at the 9,200 foot elevation, rangers say.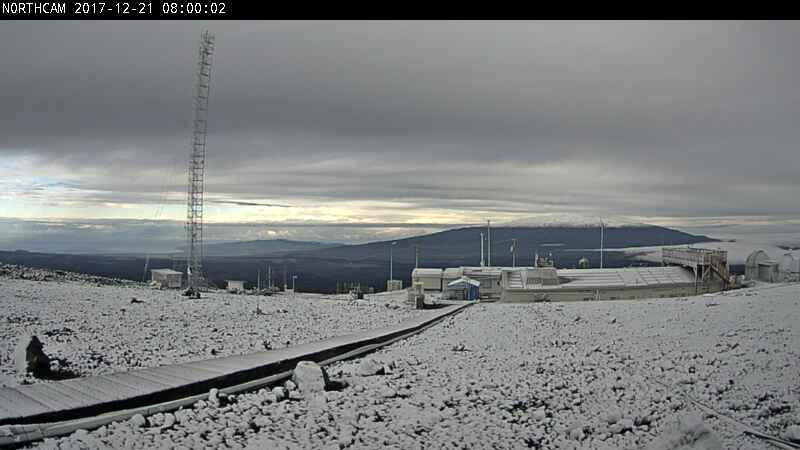 Mauna Loa is closed from Red Hill Cabin to the summit, according to the National Park Service. Snow could be seen on Mauna Loa Observatory webcams.
The entire Island of Hawaii remains under a Flash Flood Watch through this afternoon as "abundant moisture associated with a cold front will combine with a developing trough aloft to produce widespread heavy rainfall."