(BIVN) – A woman in her thirties was killed Tuesday night on Highway 130 after she was struck by a sedan.
The road was closed on the Kalapana side of Leilani Estates for several hours due to the crash.
The Hawaii County Fire Department arrived on the scene at 9:42 p.m. and found the woman laying in the Hilo bound lane. The damaged sedan was 30 yards away, pointed in the Kalapana direction.
According to the victim's boyfriend, the two were walking together on the side of the road when the woman "launched herself into oncoming traffic", fire crews report.
The driver of the vehicle, who was not injured, says she was driving at about 55 mph at time of impact. Her sedan had moderate front end damage and a shattered windshield, according to first responders.
UPDATE (5 p.m.) – The Hawaii County Police issued this media release concerning last night's fatal incident on Highway 130: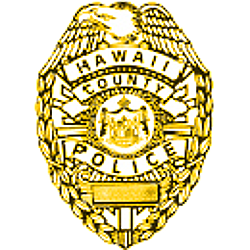 Hawai'i County Police Department
on February 21, 2018
An adult female pedestrian died following a vehicle/pedestrian crash Tuesday night, (February 20), in Pāhoa.
Her name is being withheld pending positive identification and notification of her family.
Responding to a 9:40 p.m. call, police determined that a 2006 Ford sedan was traveling southbound on Highway 130 near Launahele Road when it struck the female pedestrian, who was in the roadway.
The female pedestrian was taken to the Hilo Medical Center where she was pronounced dead at 10:31 p.m.
The driver of the Ford sedan, a 40-year-old Pāhoa woman was not injured.
Police do not believe that speed or alcohol were factors in this crash.
An autopsy has been ordered to determine the exact cause of death.
Police ask anyone who witnessed the crash to call Officer Clarence Acob at (808) 961-2329.
This is the 4th traffic fatality this year compared with 4 at this time last year.