UPDATE (6 p.m.) – According to Hawaii County Civil Defense, the USGS reports the lava flow in Leilani Estates has crossed Pohoiki road slightly north of the HGPA site. The flows to the South continue to enter the ocean near MacKenzie State Park. Lava is now covering 2,372 acres, or 3.7 square miles. Fissures 7 and 21 are feeding an 'a'ā flow that has advanced to the northeast and this afternoon crossed Pahoa Pohoiki Road onto PGV property, USGS reported.
UPDATE (3:15 p.m.) – The USGS confirmed that the northeast-moving lobe of lava from fissures in Leilani Estates has crossed over Pohoiki Road within the last hour. It is drawing closer to Puna Geothermal Venture property.
(BIVN) – The lava flow in Leilani Estates has slowed its advance and is 150 yards from Pohoiki Road, civil defense said at 10:30 a.m., as other flows heading to the south continue to enter the ocean near MacKenzie State Park.
The flow that is nearing Pohoiki Road is from a perched lava pond created by Fissures 7 and 21. The flow advanced northeastward as pāhoehoe, covering most of the area between Kaupili and Mohala Streets, but is now advancing more slowly as ʻaʻā.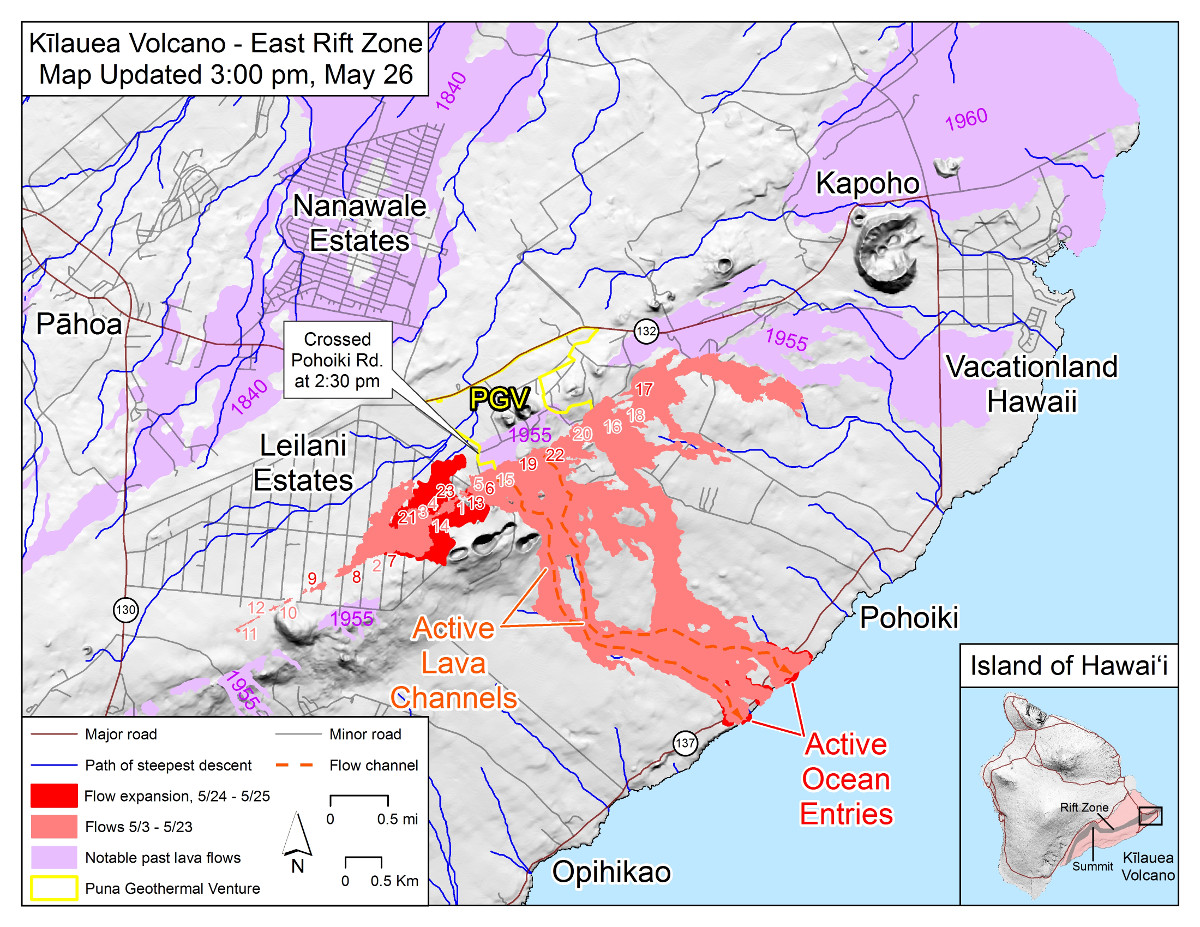 One of the lava ocean entry originates from Fissure 22, the USGS Hawaiian Volcano Observatory says. Fountains at Fissures 6 and 13 feed lava into another channel that is reaching the coast.
Areas along Kamalii Road are experiencing elevated levels of sulfur dioxide, officials say. Residents are advised to shelter in place or leave the area.
The Pahoa Community Center, Keaʻau Community Center, and Sure Foundation Church are open for shelter. Food will be provided and the shelters are pet friendly, civil defense says.
Ash mask are being distributed at Cooper Center, Hawaiian Ocean View Community Center, Pahala Gym Annex, Shipman Gym in Keaau, and Naalehu Nutrition Center from 9AM to 1PM today.