(BIVN) – Powerful, category 4 Hurricane Lane is tracking northwest and on course to pass very close to the islands Thursday and Friday.
Lane has weakened a bit, with maximum sustained winds now measured at 145 mph with higher gusts. Lane is still a major hurricane. Some weakening is forecast during the next few days, but Lane is expected to remain a hurricane as it approaches the islands. A Hurricane Warning is in effect for Hawaii County, Maui County, and now Oahu.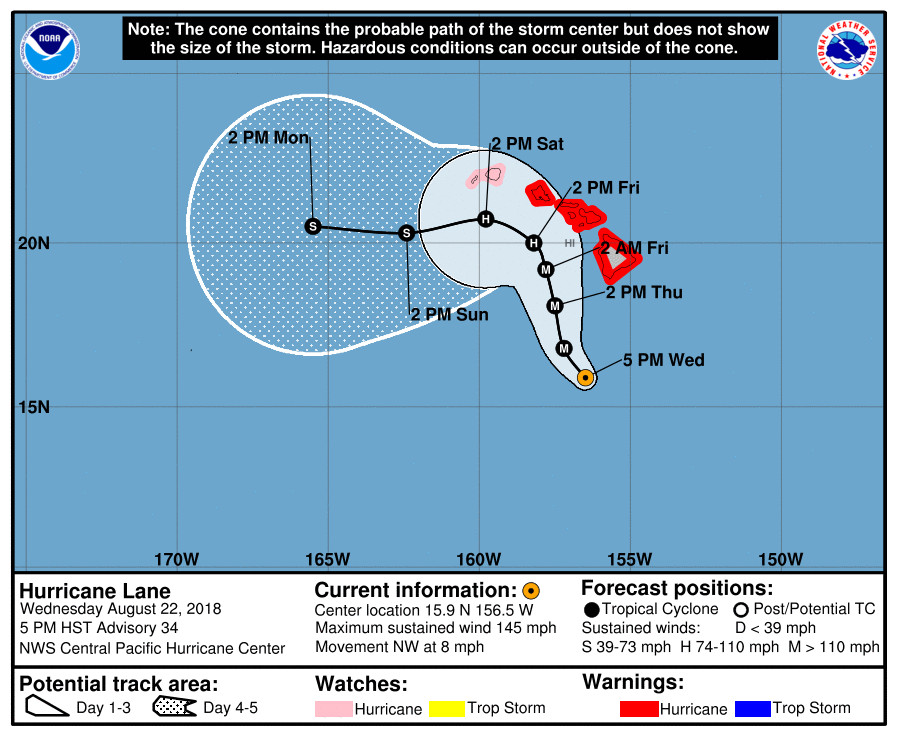 Lane is moving toward the northwest near 8 mph (13 km/h). This motion is expected to continue tonight, with a turn toward the north and a slower forward motion expected on Friday. A turn back toward the west is expected on Saturday. On the forecast track, the center of Lane will move very close to or over the main Hawaiian Islands Thursday and Friday, the National Weather Service says.
"Tropical storm conditions are expected on portions of the Big Island beginning early Thursday morning, with hurricane conditions expected in some areas Thursday afternoon or Thursday night," the Central Pacific Hurricane Center said at 5 p.m. HST. "Rainbands from Hurricane Lane will continue to gradually overspread the state tonight and Thursday. Excessive rainfall associated with Lane is expected to affect portions of the Hawaiian Islands from late today into the weekend. This could lead to major flash flooding and landslides. Lane is expected to produce total rain accumulations of 10 to 15 inches with localized amounts in excess of 20 inches over the Hawaiian Islands."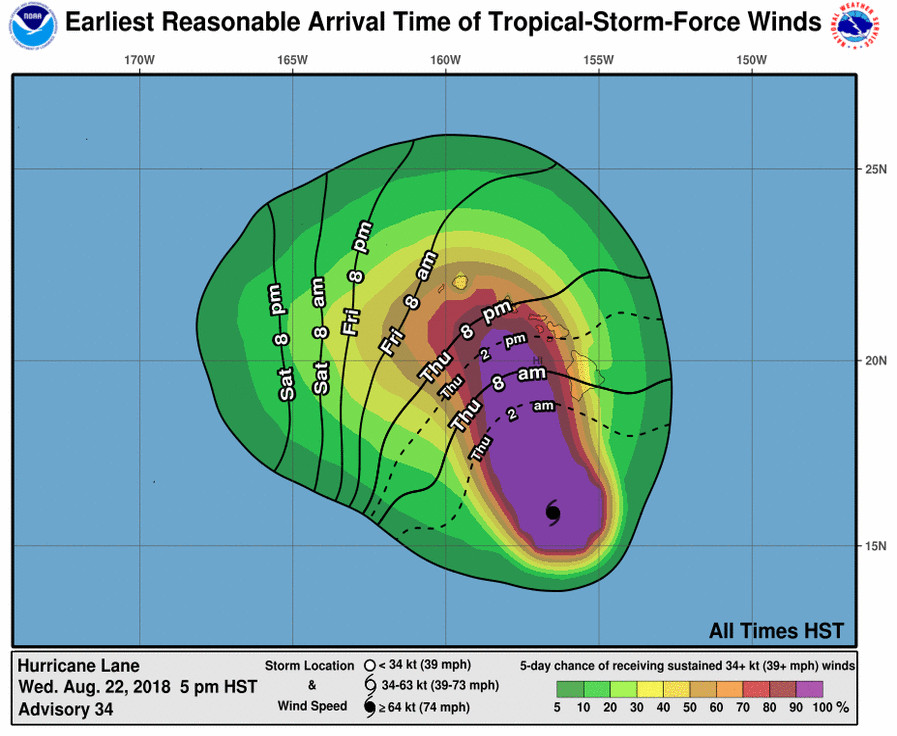 In an updated Flood Advisory, forecasters said:
At 446 PM HST, radar showed heavy rain from the outer bands of Hurricane Lane continuing to affect the windward slopes of the Big Island. The most intense rainfall was 1 to 2 inches per hour along the Hamakua Coast. Rainfall over Hilo and Puna has eased for now but water levels in Honolii Stream and Wailuku River remain high. Additional bands will be moving onshore from the east for the next several hours.
Forecasters say large swells generated by Lane will impact the Hawaiian Islands, spreading across the island chain tonight and Thursday. These swells will produce very large and potentially damaging surf along exposed west, south and east facing shorelines.
Storm surge is also a concern. "The combination of a dangerous storm surge and large breaking waves will raise water levels by as much as 2 to 4 feet above normal tide levels along south and west facing shores near the center of Lane," the CPHC said. "The surge will be accompanied by large and destructive waves."
Governor David Ige's request for a Presidential Disaster Declaration for the State of Hawai'i has been approved. The declaration authorizes the Department of Homeland Security and the Federal Emergency Management Agency (FEMA) to provide appropriate assistance for emergency measures required to save lives and to protect property and public health and safety, state officials say, or to lessen or avert the threat of a catastrophe.
"The approval of the Presidential Disaster Declaration means that Hawai'i will have quick and efficient access to federal resources in the wake of Hurricane Lane, as our communities and residents recover from any damage and losses caused by the storm. We are grateful to the president and FEMA for the swift approval of our request as our state braces for the severe weather ahead," said Gov. Ige.
The U.S. Coast Guard Captain of the Port set port condition ZULU for the Hawaii County port. "At port weather condition Zulu, The DANGER condition in which winds above 39 mph are expected within 12 hours and until the storm has passed and is no longer a threat," the U.S. Coast Guard said. "While port condition ZULU remains in effect, port facilities will be closed to inbound and outbound traffic until the storm has passed and damage assessment surveys are completed."
From the 5 p.m. Central Pacific Hurricane Center discussion:
The eye of Lane has become a bit less distinct in visible and infrared imagery over the past few hours, but the core structure remains well organized. Satellite intensity estimates were 6.0 from SAB and TAFB, and 6.5 from PHFO and JTWC. The CIMSS-ADT remained steady at 6.3. The current intensity was set to 125 kt, based on the consensus of the satellite estimates.

Unfortunately Lane appears to have started a more northwest motion, 310/7 over the past several hours. A deep layer ridge to the east and southeast of Lane is expected to build south of the tropical cyclone over the next 24 to 36 hours, which will impart a more northward motion. By 48 to 72 hours, the track guidance begins to show a sharp westward turn, as the low level circulation of Lane decouples in the face of 35 to 40 kt of shear. Exactly when this critical turn will happen is very difficult toforecast, so confidence in this portion of the track is quite low and necessitates expanding the Hurricane Warning to Oahu with this forecast package. The track forecast is virtually unchanged from the previous advisory in this time frame, and now closely follows the HCCA and other consensus guidance, which shifted slightly to the northeast around the time of closest approach to the islands. Beyond 72 hours, the shallow circulation of Lane is expected to be carried westward in the trades.

Lane is beginning to move underneath increasing shear as shown in an animation of UW-CIMSS shear analyses. The shear is expected to remain moderate for the first 24 to 36 hours, then become quite strong beyond 48 hours. A gradual weakening trend is shown through 48 hours, with more rapid weakening beyond that time frame. The intensity forecast remains on the high end of the guidance, in best agreement with the ECMWF which maintains the deeper circulation of Lane the longest.

KEY MESSAGES:

1. Lane will pass dangerously close to the main Hawaiian Islands as a hurricane Thursday and Friday, and is expected to bring damaging winds. These winds can be accelerated over and downslope from higher terrain, and higher in high rise buildings.

2. The slow movement of Lane also greatly increases the threat for prolonged heavy rainfall, life-threatening flash flooding, and landslides. The flood threat in particular will extend far to the east and northeast of the center of Lane.

3. Large and damaging surf can be expected along exposed shorelines, along with localized storm surge.

4. Do not focus on the exact forecast track or intensity of Lane, and be prepared for adjustments to the forecast. Life threatening impacts can extend well away from the center of a hurricane.

FORECAST POSITIONS AND MAX WINDS

INIT 23/0300Z 15.9N 156.5W 125 KT 145 MPH
12H 23/1200Z 16.8N 157.2W 125 KT 145 MPH
24H 24/0000Z 18.1N 157.5W 115 KT 130 MPH
36H 24/1200Z 19.2N 157.8W 100 KT 115 MPH
48H 25/0000Z 20.0N 158.2W 85 KT 100 MPH
72H 26/0000Z 20.7N 159.8W 65 KT 75 MPH
96H 27/0000Z 20.3N 162.4W 50 KT 60 MPH
120H 28/0000Z 20.5N 165.5W 40 KT 45 MPH