(BIVN) – East Hawai'i continues to see flooding rains from Hurricane Lane, as the storm slowly passes the Big Island, 130 miles west southwest of Kailua-Kona. Maximum sustained winds are near 105 mph (165 km/h) with higher gusts, according to the Central Pacific Hurricane Center. Weakening is forecast during the next 48 hours.
A Tropical Storm Warning is still in effect for Hawai'i Island, and a Flash Flood Warning is also in effect for all of East Hawai'i. "Localized storm total amounts up to 40 inches are possible, mainly on the windward side of the Big Island where over 30 inches of rain has already fallen in some areas," the Central Pacific Hurricane Center said at 11 a.m.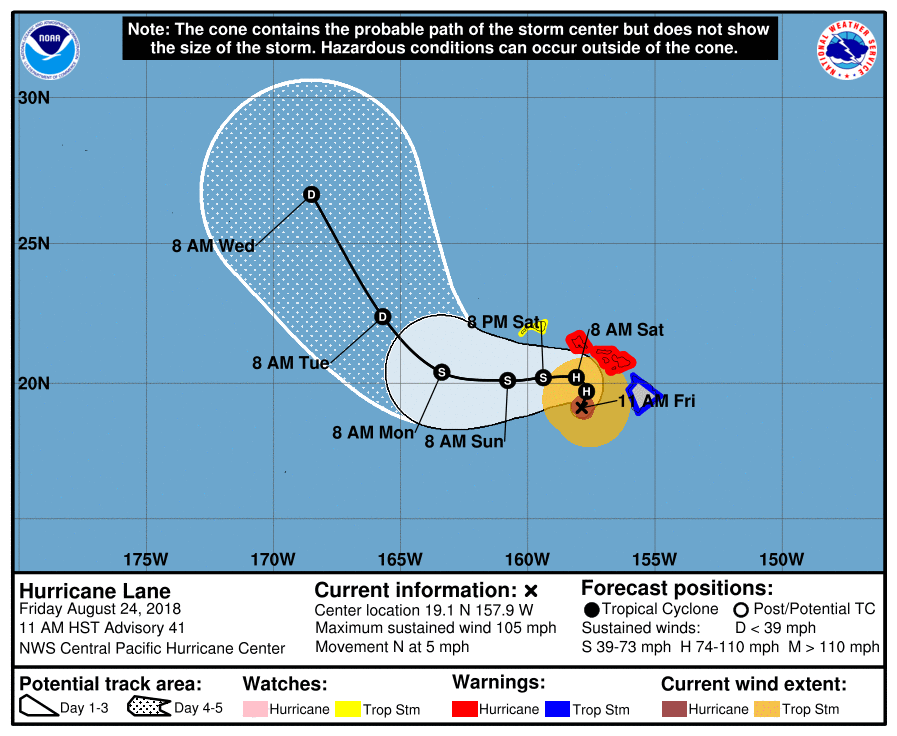 At 10 a.m., Hawai'i County Civil Defense said that due to the flash flooding, the following major roads are closed:
Highway 19 – multiple closures between mile marker 6 and 29
Saddle Road – one lane closure between mile marker 8 and 11
Highway 250 (Kohala Mountain Road) – mile marker 13
"Numerous secondary roads in Hilo, Puna, and Hamakua are closed so stay alert," civil defense said. "Multiple other landslides are occurring on Highway 19 and other closures can occur without notice."
As of Thursday night, 14 residents are staying in the six emergency shelters set up around the island.
Hookena Elementary (0)
Kealakehe High (5 residents)
Waikoloa Elementary (6 residents)
Kamehameha Park Hisaoka Gym (0)
Konawaena High (0)
Waiakea High School (3 residents)
Hawai'i Governor David Ige announced on Friday the formation of a Dual-Status Command, Joint Task Force 50 (JTF) in response to Hurricane Lane's impact on the state. The governor's formal request to appoint Brig. Gen. Kenneth Hara was submitted on Thursday, Aug. 23, 2018 and approved by Secretary of Defense James N. Mattis earlier today.
"Our federal partners have been quick to respond to our requests for assistance in the face of Hurricane Lane, and I thank Secretary Mattis for his speedy approval. This joint military task force will provide the necessary state and federal resources to any county in Hawaiʻi that needs assistance. Together, we are committed to supporting the residents of Hawaiʻi in their time of need," said Gov. Ige.
The formation of JTF-50 establishes a clear chain of command to maintain operational unity between state and federal efforts and increase efficiency. For example, Gen. Hara now has the authority to command both the National Guard and active military forces to plan for and be ready to execute those plans should vital roadways be blocked with debris or if a mass air evacuations are necessary, the state says.