(BIVN) – A group of Hawai'i Island residents stood on the side of Kalanianaole Avenue in Keaukaha on Tuesday, voicing their frustration that warning signs have yet to be posted along the shore where the nearby sewage pump station discharged wastewater into the ocean during Hurricane Lane, and where a Brown Water Advisory remains in effect.
On August 24, as heavy rain from passing Hurricane Lane drenched East Hawai'i and triggered flash flooding, the Department of Health issued a notice announcing that an unknown amount of wastewater was discharged from the Wailuku and Pua pump stations, into the Wailuku River and Hilo Bay. On the same day, a wastewater discharge was also reported at the Pauka'a pump station, affecting the coastal waters fronting Pauka'a and Honoli'i Beach Park.
The Hawaii Tribune-Herald later reported more than 9 million gallons of waste and storm water was released in the three pump station overflows. 5.9 million gallons were discharged from the Pua pump station next to Puhi Bay.
As of September 4, a Brown Water Advisory remains in effect from Hilo Bay and along the Hamakua Coast to Lapahoehoe on Hawai'i. "Heavy rain has resulted in stormwater runoff entering the waters of the eastern coast of Hawaii Island," the health department stated. "The public is advised to stay out of flood waters and storm water runoff due to possible overflowing cesspools, sewer, manholes, pesticides, animal fecal matter, dead animals, pathogens, chemicals, and associated flood debris. Not all coastal areas may be impacted by runoff, however, if the water is brown, you are advised to stay out. Continue to practice good personal hygiene and follow-up with your primary care physician if you have any health concerns."
Terri Napeahi of the Keaukaha Action Network said she tried unsuccessfully to get government officials to post warning signs along the beach, especially before the crowds gathered on Labor Day weekend.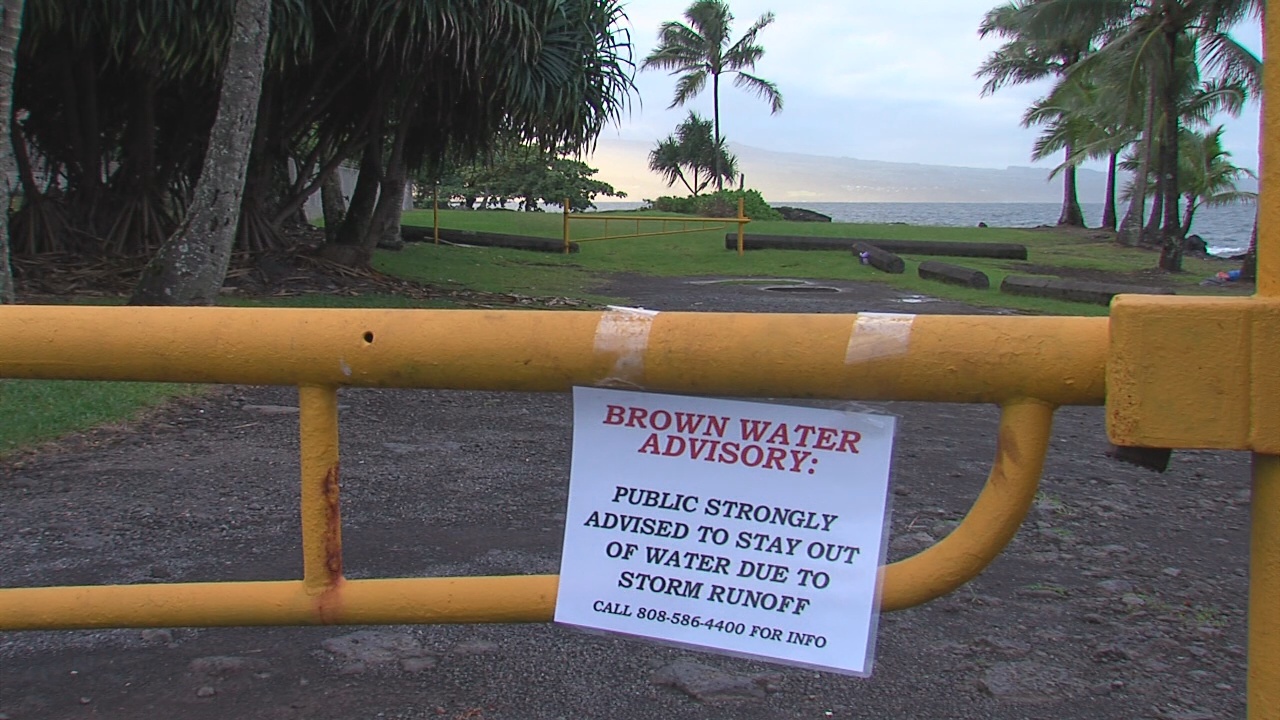 On Tuesday afternoon, the only signs posted at the popular Puhi Bay shoreline were those printed by State Representative Chris Todd in an attempt to inform beachgoers about the polluted waters.